| | |
| --- | --- |
| By / November 7, 2004 03:39 PM | |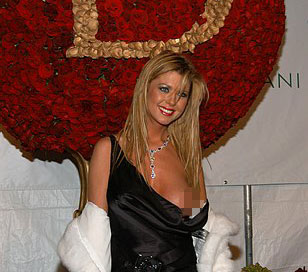 Ahh the joys of seeing what you're not supposed to.
Tara Reid at Sean "P.Diddy" Combs" 35th birthday bash poses for some pictures with a loose fitting outfit. Apparently she didn't realize when it slipped off and continued to pose for more photos in a non-chalant manner with her breast fully exposed (Warning: Not Safe For Work).
Update
Ok call me a pervert for covering this, but I get a certain thrill from the forbidden.
Tipped by Wizbang
Other Perverts Covering this
In Search of Utopia
Conservative Revolution
Finally something both sides can agree on.


This entry is in the following archive(s):
Next and Previous Entries:
Posted by Digger on November 7, 2004 03:39 PM (Permalink)

Posted by: Jeremy on November 7, 2004 05:27 PM
This is just too funny. Great work Digger. Keep up the good work.
Posted by: Chad Evans on November 7, 2004 06:57 PM
Why won't the page display with the photo of Tara's dress malfunction?
Posted by: annonymous on November 8, 2004 04:52 PM
hmm seems the links broke. Well I found new ones and a video too.

Posted by: Digger on November 8, 2004 09:18 PM
i m going to sleep good to nite wakawak the stroker
Posted by: dave on November 12, 2004 12:43 PM
Who gives a rat's backside? Do ya'll cop a woodie when you see a woman breast feed too? Get your collective heads out of your sister's bra and GROW UP, America! They're just baby bottles, not sexual organs. No worse than some fat guy mowing his grass with no shirt on which is perfectly legal but gross to see.
Posted by: cosmicpossum on November 12, 2004 01:02 PM
ok cosmicpossum is either a woman that is a hardcore feminist or a gay man. granted this is juvenile to focus on a woman's embarassing moment, but to say that men should not be attracted to breasts at all is absurd. hmm, how about animal instinct or the evolution of the species from animals. its all primal and still there. what seperates us from the animals is to see the beauty of it. granted, everyone here is just being juvenile and perverted(dam i am a pervert... oh well) :)
Posted by: kaoss on November 12, 2004 06:09 PM
WoW.... Big fan here. But it seems to me the aurora is a little three-quarter moon shaped. Though i know each booby is unique, do you think subconsciously, this uniquie attirbute, causes her to like men who lean to the left as well?
Posted by: Hotline on December 27, 2004 02:25 PM
the reason her boobs look a bit.. odd
is because she's had a boob job, you get
weird scars around your nipples like that.
Posted by: emma on August 10, 2005 12:53 PM
WTF? Why would she go to some stupid nigger's birthday celebration?
Posted by: Larry on October 8, 2006 04:59 PM