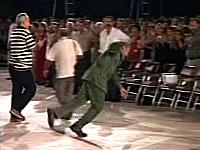 Oh my God this is hilarious. Not that the man broke his arm and knee, but I saw the video on the news and it is funny. It's like right out of some Jerry Lewis movie. I'm gonna track down the video and will post it when I find it.
Cuban President Fidel Castro tripped and fell after leaving the stage at a graduation ceremony, fracturing a knee and arm but later returning to say that he was "all in one piece."

...

A medical examination early Thursday confirmed that Castro suffered a broken left knee and a hairline fracture in his upper right arm, said an official notice read early Thursday on state television. Castro asked that the note be made public, the statement said.

Castro spoke live on state television Wednesday night less than a minute after his fall, telling viewers across the island of 11.2 million peoples that he felt like he had broken his knee and perhaps his arm - "but I am all in one piece."

"I will do what is possible to recover as fast as possible, but as you can see I can still talk," he said, sweating profusely into his olive green uniform as he sat in a folding chair. "Even if they put me in a cast, I can continue in my work."

An Associated Press photographer at the scene said Castro tripped on a concrete step after he finished walking down the stairs from the stage, then fell onto the ground on his right side, first hitting his knee and hip and then his elbow and arm.
* *
Update (12:54PM PST)
There's a link to the video on the right side of this page: NBC. I'll try to find some better video.
Other Commentary
Of course everyone's favorite anti-castro blogger Babalu Blog

Backcountry Conservative
Laughing Wolf
Short Family
Right on Red
PoliBlog

You know what drives me nuts? Every single news source cites "President Fidel castro". Come one, lets call a spade a spade. Let's use the proper apellation: "Murderous-Psyco-dictator-for-life Fidel Castro...."
Much better.
Posted by: Val Prieto on October 21, 2004 10:33 AM
"Murderous-Psyco-dictator-for-life Fidel Castro...."???
Oh yeah, because G.W. Bush is a saint. How many people have been killed in Iraq/ Afghanistan in the last few years?
I don't know how your mind works, but we don't see Fidel invading sovereign countries, murdering its peoples, and using its businesses to make money for them.
I love the American peoples and will defend their rights with all I have but American leaders and the rich are making millions/ billions off the backs of normal people in America, Iraq and around the world and have been for years. I think these people deserve the death penalty for their crimes against humanity.
As a normal American citizen, don't side with the people who take your money and use it to kill others. Fight them!
Posted by: Ireland on August 28, 2005 08:03 AM