I have added two new blogs to the ol' Blogroll.
First off we have Cardens.net, while relatively new, shows promise.
The second is a lunatic, second amendment, freedom fighter from Texas who would gladly tear you a new hole in the stomach with some of his pointy weapons. Heads Bunker, your one stop shop for some real firepower.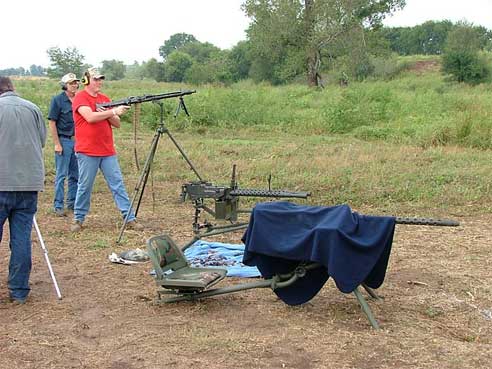 Whatcha hiding under the blanket Head?
For more images from Heads latest adventures head over to his recent weekend party.
Enough firepower to make my friend Zub blush.
Welcome guys!
Thanks for adding the Bunker to your roll. There's a Ma Deuce under the blanket, unfortunately it isn't mine. Sure does put a skip in the heartbeat though.
Great blog you got here!
Head
Posted by: Head on October 5, 2004 08:20 AM
Thanks so much Digger! I greatly enjoy reading your work, and I hope you and your readers will enjoy mine. I am thrilled!
Posted by: Matt on October 5, 2004 11:26 AM