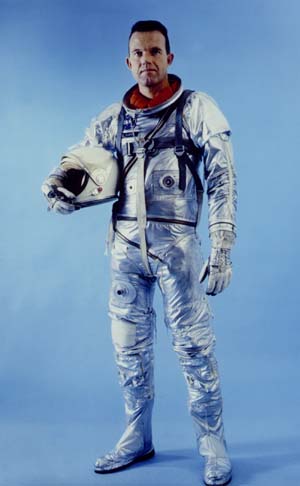 Gordon Cooper
, one of the original 7 Mercury astronauts, passed away today, he was 77.
"As one of the original seven Mercury astronauts, Gordon Cooper was one of the faces of America's fledgling space program," said NASA Administrator Sean O'Keefe. "He truly portrayed the right stuff, and he helped gain the backing and enthusiasm of the American public, so critical for the spirit of exploration. My thoughts and prayers are with Gordon's family during this difficult time."

Cooper piloted the final flight of the Mercury program, the United States' first manned spaceflight program that had the primary goal of putting a man in orbit around Earth.

Born March 6, 1927, in Shawnee, Okla., Cooper was selected as a Mercury astronaut in April 1959. The astronauts became heroes in the space race between the United States and the Soviet Union.

On May 15, 1963, Cooper piloted the "Faith 7" spacecraft on a 22-orbit mission that concluded the operational phase of the Project Mercury. He flew for 34 hours and 20 minutes.

Two years later, he served as command pilot of the Gemini 5 mission, during which he and Charles Conrad established a new space endurance record by traveling more than 3.3 million miles in an elapsed time of 190 hours, 56 minutes.
What a sad occurrence considering the
triumph
today
of the SpaceShipOne
at capturing
the x-prize
of $10 million
.
Rest in peace Gordo.