In my last boxing entry
"Motormouth" Gets His
I covered how much I hate Roy Jones Jr. and his arrogance. Well tonight I got another good yell and scream that made my kids jump and say "Daddy, you're too excited!" as once again the knockout came.
Glen Johnson, a relative unknown, came out like a bull on speed in the first round pinning Jones on the ropes and pummeling him repeatedly with no response from Jones. The next few rounds Johnson stayed on him keep close and not letting Jones plan his quick, accurate shots. Jones, always the arrogant asshole, between rounds would look out at someone in the audience and give them a nod or little smirk.
Jones looked well off his game, other than a couple of quick flurries during the fight that made me worry, he just allowed himself to get smothered with punches. Then it came in the ninth round, the moment of my shouting with glee as Johnson stepped forward and just clobbered Jones with a right hook from hell. Jones fell backwards, his head striking the canvas twice hard and then not moving. He was completely out. Later it would be discovered that he had a concussion. I yelled once for the punch and once again for the count of ten and then looking at the TV without him moving and his eyes closed I started to worry.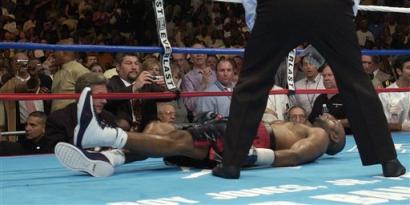 While I might hate his arrogance, his disrespect for other fighters and his rapping and attitude I still respect him as a human and watched in hopes that he was ok. While I had the glee of watching him loose I had the compassion and worry that the man himself was ok.
I am still happy that he lost, but I wish him well and hope that he recovers to provide me with more happiness in the future. At an old 35 (35 is old in boxing) it might just be time for him to retire. His heart didn't seem to be in the fight and he didn't look like the old Roy Jones Jr. of just a few fights ago. Having lost his last two fights to devastating punches that knocked him out past the count of ten it might be time to hang up the gloves.
His last excuse for the Tarver fight was that he was "caught by a lucky punch", but this fight he was dominated for most rounds and the punch was nowhere near lucky as Roy flinched, turned away and closed his eyes just before it landed. Unlike the Tarver fight, where you could clearly tell he never saw the left hook coming in behind his upheld right arm, this punch he clearly saw.
I send my best wishes that he recovers, but I will hold onto this glee at least through the rest of tonight.