The
Washington Times
has picked up the story of little 3 year old Sophia Parlock. Sophia was photographed crying after a Labor Union Democrat Supporter tore the sign from her hand and ripped it up. The blogosphere exploded with this image.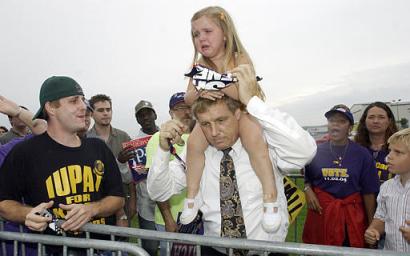 From the article:
The Parlocks went to Mr. Edwards' airport rally yesterday "to support the president," Mr. Parlock said, and brought nine Bush-Cheney signs with them.

"We stood there quietly while Senator Edwards went through the receiving line," he said. Then, as the North Carolina Democrat prepared to leave, Mr. Parlock said, "I took out a few Bush-Cheney signs, gave one to Alex, and Sophia and I held up one jointly."

Immediately, he said, the family was set upon by supporters of Mr. Edwards and Democratic presidential nominee Sen. John Kerry — "mostly the painters union guys" — who "started stealing my signs." Soon, "old women and college students joined in the fracas," said Mr. Parlock...
Thanks
Michelle Malkin
for the tip on the times article.
View my previous entry and see the blgosphere explosion at the sites below (links open in new window):
| Anti-Idiotarian Rottweiler | Wizbang! | Blogs For Bush | Captains Quarters | Dean Esmay | Powerline | Right Thinking From The Left Coast | SlantPoint | Confederate America | | Oh ... Really? | Twisted Spinster | Milblog | Wes Roth | Damnum Absque Injuria | Politicalities | snellspace | Hog On Ice | Babalu Blog | The Command Post | Cranky Neocon | Poisoning Pigeons |
Update:
Blogs For Bush has an update on the situation. Apparently President Bush saw th picture and heard the story and took care of business. Click above for the details.