First the Democrats
punch
a Bush supporter and now we once again have Democrats showing their true thoughts on free speech.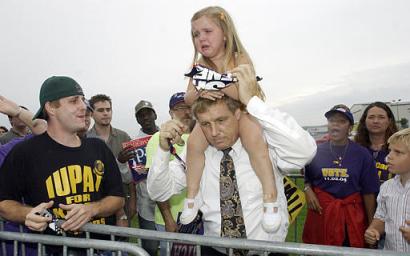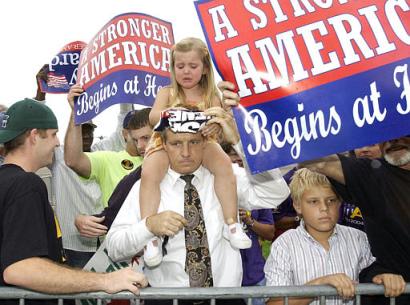 Three-year-old Sophia Parlock cries while seated on the shoulders of her father, Phil Parlock, after having their Bush-Cheney sign torn up by Kerry-Edwards supporters on Thursday, Sept. 16, 2004, at the Tri-State Airport in Huntington, W.Va. Democratic vice presidential candidate John Edwards made a brief stop at the airport as he concluded his two-day bus tour to locations in West Virginia and Ohio. (AP Photo/Randy Snyder)
There's nothing wrong with disagreeing with someone, but to rip a sign up that a 3 year old little girl is carrying is ridiculous. The look on the assholes face that did it is telling as well.
Here are some other outraged postings on this:
Anti-Idiotarian Rottweiler takes the cake, an excerpt.
You, fuckwit, don't have the balls to face a MAN (with the exception of one who's alone with a toddler on his shoulders) and try the shit that you did to a THREE YEAR OLD GIRL WHO WAS EXERCISING HER RIGHT TO FREE SPEECH, you steaming pile of rancid rat vomit!!!

Any day, any time you want to come to Florida and try that with someone who will fuck you up within an inch of your life, rip your heart out and piss in the gaping wound in your chest, tear your shriveled dick off and shove it between your smarmy lips and down your throat, BRING IT ON, you coward.
And the rest (all links open in a new window)
| Wizbang! | Blogs For Bush | Captains Quarters | Dean Esmay | Powerline | Right Thinking From The Left Coast | SlantPoint | Confederate America | | Oh ... Really? | Twisted Spinster | Milblog | Wes Roth | Damnum Absque Injuria | Politicalities | snellspace | Hog On Ice | Babalu Blog | The Command Post | Cranky Neocon | Poisoning Pigeons |
Update:
Some people still think it's a "hoax" and the union guy in the pictures is her brother. Whatever. Denying something doesn't make it so.
via Michelle Malkin
Just received a call from the IUPAT, which has now identified the union member who grabbed the Bush/Cheney sign from Phil Parlock's daughter and threw the pieces at the family as they left the event. "We are taking steps to deal with the individual," the union told me.
Picking up the phone does wonders.
Say Anything has more comments.
"The Truth Hurts"
Rather than spewing liberal garbage trumped up by people who haven't actually talked to anyone try taking a look at an article by someone who has made some actual calls:
Calling not only the family involved, but the union and several others. Unless you think the union is involved in this "conspiracy" as well and that they are discipling the individual who did this just to spite him.
http://michellemalkin.com/archives/000558.htm
http://sayanythingblog.com/archives/004270.php
Posted by: Digger on September 21, 2004 04:54 PM