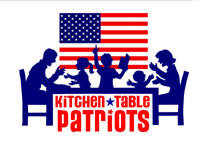 My how things grow! Some of my good friends in the Eastern Pennsylvania area have teamed up together to actually open a voter drive office through the November elections. Mariann Davies of the
Kitchen Table Patriots
just sent me the below release that they are having a grand opening on September 14, 2010. There will be many people who are active in the Southeastern Pennsylvania area in attendance.
---
Southeast Pennsylvania Liberty Headquarters- Grand Opening
Tea Party office to Drive Voter Turnout on November 2nd, 2010
Doylestown, PA- A coalition of local grassroots leaders and tea party activists are joining together with American Majority Action to open the Southeast Pennsylvania Liberty Headquarters in Doylestown, PA on September 14th, 2010. The office will serve as a hub of grassroots activity in southeastern Pennsylvania for the remainder of this election season.
"The headquarters meets the needs of the unprecedented number of citizen activists generated by the Tea Party movement," said Drew Ryun, president of American Majority Action. "Citizens are helping shape the public discourse in a way I have not seen in my lifetime. The Tea Parties had a considerable impact on primary elections across the country, and we want to help them make a formidable mark on the course of history on November 2nd."
Southeastern Pennsylvania Liberty Headquarters is one of seven Liberty Headquarters being opened around the country simultaneously, including a location in suburban Pittsburgh.
What: Grand Opening of the Southeastern Pennsylvania Liberty Headquarters
When: Tuesday, September 14, 2010, 7:00 pm – 8:00 pm
Where: 15 Clemens Road, Doylestown, PA 18901
Who: Media interviews with the following local leaders will be available
Ana Puig and Anastasia Przybylski, Kitchen Table Patriots (Bucks County)
Diana Reimer, Philadelphia Tea Party Patriots and PA State Coordinator for Tea Party Patriots
Joe Sterns, Citizens Alliance of Pennsylvania/Empower Pennsylvania
Jeff McGeary - Thomas Jefferson Club
Matt Grodsky – Patriots of Lower Bucks
Jennifer Stefano - Conservative Leadership Coalition
Kevin Kelly - The Loyal Opposition (Philadelphia)
James Jones – Former Congressional Candidate for PA's 8th Cong. District
"We consider this the people's headquarters. The opening of this campaign office will allow fellow Southeastern Pennsylvania activists to make their voices heard loud and clear on Tuesday, November 2nd. We will focus our collective energy on supporting conservative candidates by organizing volunteers and getting out the vote ", said Anastasia Przybylski and Ana Puig, of the Kitchen Table Patriots and local coordinators for the Liberty Headquarters.