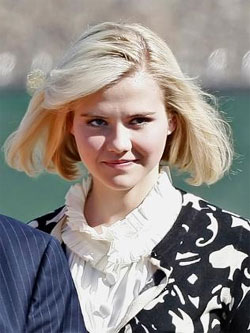 Brian David Mitchell
, the sicko who called himself a prophet named Emmanuel, was found to be competent to stand trial March 1, 2010 after being found incompetent to stand trial on two prior occasions. Mitchell is accused of kidnapping 14-year-old
Elizabeth Smart
in 2002 from her home at knife-point, holding her captive for 9 months, and as Smart testified in October 2009, raping her daily. Mitchell's wife,
Wanda Eileen Barzee
, was in on the whole scheme.
Smart is pictured to the right in October 2009 after testifying in US District court that Mitchell was "evil, wicked, manipulative, stinky, slimy, selfish, not spiritual, not religious, not close to God." and that he used religion to get to what he truly wanted, sex. Smart also testified that Mitchell attached a 10 foot cable to her ankle and than attached that to another cable that was between two trees. "He said that he would kill anybody that would come into the camp, or kill me if I ever tried to escape or yell out."
Little known is the fact that the couple also attempted to abduct Smart's cousin one month after they took her.
Barzee has struck plea agreements with the state to testify against her husband. The state has agreed to drop state charges in the abduction of Smart for Barzee's guilty plea of conspiracy to commit aggravated kidnapping in the abduction attempt on Smart's cousin.
It is a damn shame that it has taken this long to finally prosecute this dirtbag. Even if convicted he will still be a burden on society as he sits in a taxpayer funded cell raping the American People's wallets.
| | |
| --- | --- |
| Brian David Mitchell | Wanda Eileen Barzee |

Carlie Christensen, acting U.S. attorney for Utah, released a statement saying she was pleased with U.S. District Judge Dale Kimball's ruling [of competency] , calling it "a significant step toward holding the defendant accountable for his conduct."

...

In November, Barzee, now 64, pleaded guilty in federal court to kidnapping and unlawful transportation of a minor in connection with Smart's abduction. As part of her plea deal with prosecutors, she entered a guilty plea to a lesser charge and agreed to cooperate in the state and federal cases against her husband.

Smart, now 21, testified at a competency hearing for Mitchell in October, saying she had been held captive in Utah and California after her abduction. Just after she was kidnapped, she testified, Mitchell took her to a wooded area behind her home and performed a mock marriage ceremony with her, then raped her. She said that during the nine months of her captivity, no 24-hour period passed without her being raped by Mitchell.

Tipped by: Marsys Law
You know, you should refrain from calling people 'sicko' or 'dirtbag' until they are convicted in court; because you are saying these things based on your 'desire' to have someone be punished.
He is not a kidnapper or rapist until a jury says he is.
You always reference the Constitution and people's Rights, unless it is a subject that you find particularly loathsome to YOUR sensibilities.
In order to maintain credibility, you have to be fair about the application of Rights to those that are enttitled to them. And despite what people want, he has Rights in this Country. Basic and real ones, not those twisted-logic 'rights' that lawyers try to fabricate.
In many cases, a 'technicality' or 'loophole' is simply a Constitutional Right.
Because some one is accused, arrested,or indicted does not mean they are guilty.
Of course, if he is convicted, then it is an entirely different story.
Posted by: frank on March 11, 2010 10:07 AM