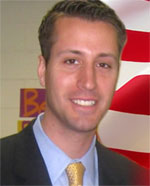 There is a fire abrewing up in Bucks County, Pennsylvania where Democrat Patrick Murphy is the current sitting representative for District 8. Outraged at his voting record - he is a near clone of Nancy Pelosi when it comes to votes - Murphy now faces 7 people who have thrown their hat in the ring to run against him on the Republican ticket come Primary Election Day May 18, 2010.
Of the 7 primary candidates left (there were 10 after former Rep Mike Fitzpatrick recently entered the race) my pick of the lot is firebrand, hard charger and immigration enforcement patriot Jeff McGeary.
Murphy's campaign is so worried about McGeary that they sent operatives to a recent Republican candidates forum and broke the rules of taking pictures and video specifically of McGeary. They were warned by event coordinators to stop as it was against the rules of the forum or they would be removed.
McGeary, a captain in the Army reserve, has been burning up the Pennsylvania scene speaking at numerous Tea Party protests, founding a patriotic group called the Thomas Jefferson Club and mobilizing countless ordinary Americans to take action against a more intrusive government. McGeary is also an Eagle Scout and a member of the American Legion.
Leaders like Jeff are hard to find in this day and age and he's going to need support running against Fitzpatrick in the primary. Fitzpatrick has prior connections and money and we can't let McGeary give up! For more information or to donate to his campaign see the McGeary for Congress website. Tell Jeff to stay in the race to the end.
"[we must ] defend our borders from foreign invasion and that is exactly what is going on along our southern border".
- Jeff McGeary
In the video below you can watch Jeff clearly lay out his beliefs. States rights, limited government and putting America first are among them.
In particular pay attention to the beginning of the second video below and it will get most Americans excited. This man clearly means what he says and has the guts to state it loud and without fear when it comes to illegal immigration. This is something we need in congress.
"I absolutely oppose amnesty ... I pledge I will go down to our southern border, I will defend our border," McGeary said. "it states in the constitution, which I swore an oath to, ... [that we must ] defend our borders from foreign invasion and that is exactly what is going on along our southern border".
"I will be a leader in this. I will oppose amnesty and I will advocate for returning legal immigration back to a reasonable level of around 250,000, so we can introduce those who have come here legally, to the American culture, American Flag, American Language and the American way of life."
Jeff McGeary Part One

Jeff McGeary Part Two

Support McGeary for Congress today!
Video is from January 11, 2010 at the Republican Candidates Forum - Council Rock High School
Video courtesy of: Kitchen Table Patriots