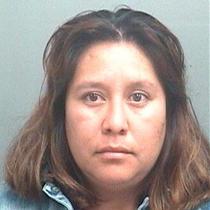 Illegal Alien
Leticia Flores
, 28, struck and killed 10-year-old
Darness Brown
and injured her 13-year-old sister Darneisha as they played on their scooter in Boynton Beach, Florida December 6, 2009. Witnesses say Flores then got out of her Honda SUV to yell at the girls for playing in the street, hopped back in and fled the scene. The police caught her later at a convenience store.
Darness Brown died at Delray Medical Center despite the efforts of a good Samaritan performing CPR on the little girl until paramedics arrived.
Flores told police that she fled the scene because other people had come to help and that she didn't have a license.
This is what happens when you allow illegal aliens to flourish in your community. They are illegal and therefore feel that they must do everything in their power to subvert the law. There is no personal responsibility when your every action is to avoid being caught. This woman is despicable and I am glad that the judge set her bail at $1 million because of her immigration status.
We have enough problems with legal citizens and residents breaking laws and killing people. Did we really need to allow people like Flores to remain in this country unchallenged?
One of the first questions that comes to mind is who really is the one who shouldn't have been on the street? The little girls or the illegal alien?

In what had to be a sickening scene, Darneisha told the police that as her sister was dying next to her, Flores jumped out of her vehicle and screamed at the two girls for being on the street, she then fled the scene.

The girl's story was supported by an eyewitness. Jessica Thomas, 24, told police she ran outside when she heard the crash. The affidavit claims: "Once outside, she observed the driver of the vehicle standing outside staring at the injured pedestrian. Thomas then stated that the driver (Flores) got into her vehicle and fled the scene."

...

Flores was arraigned on Tuesday, with Judge Ted S. Booras setting bail at $1 million. Booras cited not only the serious nature of the crime, but Flores' immigration status as the reasons behind the large bail amount.

you miss the fact that she is not going unchallenged.
She went unchallenged allowing her to be in this country illegally. It's a shame someone had to die before she was actually challenged.
you are only making an issue of this because Flores is illegal/Hispanic.
It is an issue because she is illegal. For anyone to think that an illegal alien coming here ILLEGALLY and driving ILLEGALLY and then killing someone is not an issue is to ignore everything that the rule of law is for. It's sad that you think the rule of law should be ignored where you see fit.
As for her being Hispanic, nice try. If she was an illegal alien Irishman it is still the same issue. Nice try on trying to play the race card though. If I was a racist why would I even cover this issue with the victim being a little black girl? Pretty sad that you twist the issue because you have no argument.

She is going to pay for her time like any other American would

She is not an American.

Posted by: Digger on December 14, 2009 11:39 AM