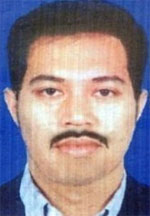 Police in the Solo, Central Java killed Bali Bombing mastermind
Noordin M. Top
in a terrorism raid last night. Good to see this despicable human being finally get an end he deserved after having so many others killed.

Noordin M Top is among the terror suspects killed in a raid overnight in Solo, Central Java, Indonesia's National Police chief Bambang Hendarso Danuri said Thursday.

The body's fingerprint's matched Noordin's in the Malaysian National Police database, he added.

Noordin is one of the most wanted terrorists in the region. He is believed to be the mastermind of at least five terrorist attacks in Indonesia, including the Bali bombing and the attacks at two luxury hotels in Jakarta in July.

Police stormed a house on the outskirts of the city at around 7:00 a.m. after a nine-hour siege. Solo is a longtime stronghold of the Jemaah Islamiyah (JI) radical network.

Three other terror suspects were killed and three arrested in the raid. Also among the dead is Bagus Budi Pranoto or Urwah, a man wanted by police in connection with the July hotel bombings in Jakarta.

Tipped by: Interested Participant

Accidentally come here , I am incomparable to enjoy myself when i appreciate your beautiful article from my deep heart!
dunksb
Posted by: rucy on September 17, 2009 02:22 PM