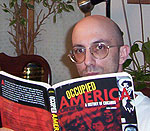 This is a little old, but it seems that it is being "scrubbed" from the net. It covers what is going on in our schools under the guise of "Raza Studies". I can vouch for the statements made in the book "Occupied America", because I have it sitting here right in front of me (thanks to Ruth of
Illegal Protest
).
Rodolfo Acuna disputed that Occupied America was a handbook for radical "Chicanos" when the Raza Studies program was attacked in Arizona for its separatist and racist teachings. All anyone has to do to dispute his argument though is to look through the book where the United States is demonized at every chance and Mexicans are made out to be the hero. For instance, I don't think there's even a mention of Mexicans slaughtering Indians or any acceptance of responsibility for the current state of Mexico.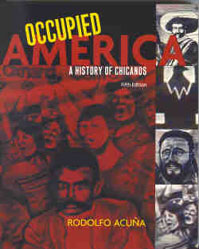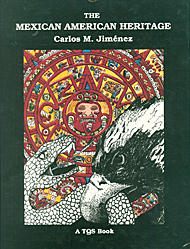 "REPORT & FINDINGS ON RAZA STUDIES"
After reading several reports from around the nation saying that the Mexican educational groups such as M.E.C.H.A. (Chicano Student Movement for Aztlan) and "Raza Studies" were teaching hatred of Americans especially the "gringo" and "subversion" (this means planning a takeover of parts or all of our nation) a few of us got together to check it out in our local school district: T.U.S.D (Tucson Unified School District) in Arizona. Also, some mothers had come up to me after I discovered and mentioned to this schoolboard that M.E.Ch.A. says in its first paragraph of its Constitution their goal: "To continue the struggle for self-determination of the Chicano people for the purpose of liberating Aztlan." (Exhibit "A", pg.1) (This is known as "la Reconquista" or the "takeover" of land Mexico only owned for 24 years – that's it! It's a big lie!). The mothers grabbed my arm and said, "Thank you for what you said. Our children are in danger!" They as many other Americans suspect that the hate that is being taught by these 2 "educational" entities are instigating and fomenting these kids to burn the American flag, or tear it down and put it upside down under the Mexican flag as they did during the two marches. They also feel it is fomenting hatred and violence and many Americans just defending the rule of law (that we ourselves must obey) have been attacked by these youth.
"Raza Studies" made it very difficult for us to get an appointment but with the help of the AZ Sup't of Schools, Tom Horne, we were finally able to get 3 sessions where we could review the books. We asked repeatedly, verbally and in written form, for a complete copy of the teaching materials but to date we have never received one. On the last date of review, they gave us a single sheet with some names of books on it (Exhibit "B") and told us it was complete; but then said several of the books listed were no longer used (although they had just given us these books to review at the first appointment). Several of the books that we saw were not even mentioned on this list. At this last book review, we were treated very poorly and shouted at, but I will take that up in a separate letter.
Out of some of these books I reviewed, I decided to delve more thoroughly into specifically two books (that are on the list and that they do, in fact, use). What I found was very alarming! We asked for a meeting with the AZ Superintendent of Schools (which he approved) and with the heads of "Raza Studies". Every head of Raza Studies backed out. We find the difficulty in making the appts. for review, the refusal to give us a complete copy of the teaching materials and now the refusal to meet with us also very alarming. What are they afraid of? Is there something they don't want the public to know about? The two books I am reviewing here are: Occupied America by Rodolfo Acuna, Fifth Edition, Pearson/Longman, Copyright 2004 and The Mexican American Heritage by Carlos M. Jimenez, 2nd edit., a TQS book (publ).
Also, by the way, as per the Open Records Law, we are still demanding a copy of all teaching materials of "Raza Studies".
Here are my findings:
Both books:
1. PROMOTE SEPARATISM; BOTH ARE SUBVERSIVE AND ARE FOR MEXICO STEALING STATES BELONGING TO THE UNITED STATES INCLUDING ARIZONA. (The 7 SW states Mexico wants back were only owned by Mexico for 24 years (approx. 1824-1848) and before that were owned by Spain for 300 and before that were owned by American Indians for thousands of years. AZTECS & MAYAS NEVER LIVED IN NORTH AMERICA!)
2. BOTH BOOKS TWIST THE HISTORY AND BLAME THE U.S. FOR ALMOST EVERYTHING.
3. NEITHER OF THE BOOKS REFER TO AMERICANS AS "AMERICANS" – THEY CALL US "ANGLOS" (I AM NOT AN "ANGLO" WHICH MEANS SOMEONE OF ENGLISH DESCENT); THEY CALL US "GRINGOS" (p. 87 & many other places in Occ. Amer.) – A PEJORATIVE AND DEMEANING TERM SIMILAR TO CALLING A MEXICAN A "Mexican illegal"; AND ONE BOOK ACTUALLY REFERRED TO AN AMERICAN AS A "REDNECK"(pg. 343 Occ. Amer.) ! ONE BOOK REFERS TO AMERICANS AS "EUROAMERICANS" LUMPING ALL EUROPEAN CULTURES TOGETHER EVEN THOUGH THEY ARE ALL DIFFERENT.
4. THE BOOKS GIVE THE IMPRESSION THEY DO NOT RECOGNIZE THIS COUNTRY BUT SAY IT IS "AZTLAN, MEXICO" – (AND THIS IS BEING TAUGHT IN AMERICAN PUBLIC HIGH SCHOOLS!). ONE SAYS, (I quote)
"Aztlan 'is' another name for the U.S. Southwest."(pg. 110, Mex.Amer.Her.) (Exh. "C", pg. 1) AND
"The real question is how well Americans and Mexicans will learn to live together in Aztlan." (p.107 Mex. Amer. Heritage)(Exh."C", pg. 2)(at least this writer does not talk about murdering the gringo/black/Asian)
5. ONE OF THE BOOKS HAS A QUOTE OF A CHICANO LEADER (Jose Angel Gutierrez) WHO SAID,
"KILL THE GRINGO" (why do we have a public High School book that says "kill" anyone??? THIS SHOULD NOT EVEN BE IN A BOOK! (p.323 Occupied America)(Exh. "D") (although they try to whitewash his statement, his real statement is,
"We have got to eliminate the gringo, and what I mean by that is if the worst comes to the worst, we have got to kill him." (bold, underline added)(See Exhibit "D, & "E, &"F" for the full quote of Gutierrez.)

Aztlan and quotes by Jose Angel Gutierrez

6. THERE ARE MISTAKES, FALLACIES, INACCURACIES & DISCREPANCIES.
At pg. 17 in one book (Mex.Amer.Heritage) the author quotes someone as saying, "…Mexico was amongst the first to eliminate slavery" and at pg. 139 in the same book the author states,
"Porfirio Diaz had gone about the business… of seeing to it that the Indians were reduced to slavery…" (And this was between 1910 to 1920 after much of the rest of the world had stopped slavery including the U.S.!).
ANOTHER FALLACY IN THE BOOK: (pg. 107 Mex. Amer. Heritage):
"…it is likewise hard to deny that the Mexican raza (race) was here originally,…" (Exh. "C", pg. 2)
(see attached Exhibit "G", pg. 2: "The Race Schools" by Michelle Malkin where she states *"No aztec tribe ever lived anywhere which is now United States lands….But the "Chicano studies" teachers continue to promote that propaganda and lie, and in the process attempt to completely wipe out the history of our tribes in the U.S.southwest." This was written by a Native American Indian!).
Cesar Chavez was against "illegal aliens" because they took jobs for much less pay away from his grape pickers and would lower the wages all round. Whenever he would find them, he would turn them in. Nowhere did I see this mentioned in any of the "Raza" books!
Rodolfo Acuna constantly calls Americans: "racists", "nativists", "immigrant hate (we don't hate "immigrants" – my parents are "immigrants" – we are "for" the rule of law) groups" and when illegal alien Mexicans are deported or caught, he uses the wrong word "immigrants" (an immigration term meaning "only" legal aliens); he constantly blurs the line between legal and illegal. Americans are the bad guys; and Mexicans the good guys who are always "victims". He does not mention the ferocious racism practiced in Mexico against their own indigenous.
RACISM: (Occup. America, pg. 396) Acuna accuses any Mexican politician of voting for a "white" candidate will be "diluting" the unity of all Mexicans! "Incredibly, in places like California, Latino politicos who back white candidates over Latino candidates -…-are diluting this unity." What about voting for the "person "and what he stands for, Rodolfo? He is teaching the students of Mexican background not to be American but to be "only" Mexican and owe their allegiance to Mexico!
7. THE $2.6 MILLION DOLLARS THAT IS BEING SPENT ON "RAZA STUDIES" IS BEING TAKEN OUT OF MONEY THAT WAS CALCULATED FOR EVERY TEACHER WHO SHOULD HAVE GOTTEN A $600 PAY RAISE AND WOULD ALSO HAVE COVERED EACH TEACHER'S MEDICAL INSURANCE.
8. AND NOW - THEY ARE FIRING ALL THE ELEMENTARY SCHOOL LIBRARIANS THAT HELP OUR CHILDREN TO READ BUT THEY KEEP A RACIST PROGRAM THAT TAXPAYERS ARE BEING FORCED TO PAY $2.6 MILLION DOLLARS ON FOR ONE CULTURE OVER EVERYONE ELSE'S CULTURE? THIS MAKES NO SENSE & IS REALLY RIDICULOUS.
9. The names of the chapters give away a lot: In "Mex. American Heritage" we find the names of these chapters:
The Aztecs extend their Empire (it's ok for the Aztecs to take over other people, just not anyone take them over it seems), Why Aztlan Was Lost, The American Invasion, The Future of Aztlan, and Mexicans Return to Aztlan (he is referring to the U.S.!), Viva La Raza and Chicano Power;
HERE IS "Occupied America":
A Legacy of Hate: The Conquest of Mexico's Northwest, The Invasion of Texas, The Manufactured War, An Unwarranted Aggression, The Pretext for Conquest, History as Propaganda, The Myth of a Nonviolent Nation, The Treaty of Guadalupe Hidalgo – the Deception, The Colonization of New Mexico, Sonora Invaded: The Occupation of Arizona, Growing Racist Nativism Toward Mexicans, Nativist Deportations (no mention of Illegal aliens – they are called "immigrants"), and on and on and on…
WE DEMAND THAT THE RACIST PROGRAM OF MECHA/LA RAZA BE DISCONTINUED AND THIS MONEY BE SPENT ON EITHER (OR BOTH- IF YOU CAN STRETCH IT) KEEPING OUR SCHOOL LIBRARIANS & A RAISE FOR ALL ARIZONA TEACHERS WITH PAID MEDICAL INSURANCE. EVEN IF MECHA & "RAZA STUDIES" PROGRAM DESISTED FROM TEACHING RACISM, THERE IS ABSOLUTELY NO REASON THEY CANNOT TEACH THEIR CHILDREN AT HOME AND AT THE LIBRARY WHATEVER THEY WISH ABOUT THEIR ETHNIC GROUP JUST AS EVERY SINGLE IMMIGRANT HAS DONE SINCE OUR NATION BEGAN BUT WHO ALL IMBEDDED IN THEIR CHILDRENS' MIND THAT WE ARE ONE NATION AND "WE ARE AMERICAN FIRST". AND WHEN YOU COME HERE, YOU GIVE UP YOUR NATIONALITY AND ALLEGIANCE TO WHATEVER COUNTRY YOU ORIGINATE FROM AND YOU BECOME AN "AMERICAN". WE HAVE ALWAYS BEEN DIVERSIFIED AND MULTICULTURAL – BUT WE ARE "AMERICANS". IF YOU DO NOT WISH TO BE AN AMERICAN, THEN KINDLY GO BACK TO WHERE YOUR HEART LIES. YOU ONLY TEAR THIS COUNTRY APART. A NATION CAN JUST TAKE SO MUCH RIPPING APART!
P.S. You may wish to also check out 2 other "Plans": M.E.Ch.A. says its philosophy is based on the "Plan of Aztlan" and on pg. 4 of this Plan it states at (Exhibit "H "):
"7. Political Liberation
1….
2…
3. Self-Defense against the occupying forces of the oppressors AT EVERY SCHOOL (bold/enlargement added) every available man, woman, and child." What do you think this means? They are talking about a War to take over Aztlan! And using the schools as defense posts!