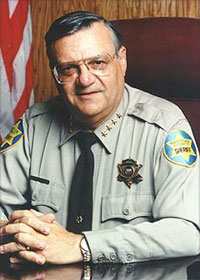 I just received this straight from the Maricopa County Sheriff's Office.
WHILE PRESIDENT OBAMA SAYS IMMIGRATION REFORM MUST WAIT TIL 2010...
...SHERIFF ARPAIO VOWS TO NOT BACK DOWN ON ILLEGAL IMMIGRATION ENFORCEMENT
32 Illegal Immigrants Arrested on Felony Charges Last Night…93 in Last Two Weeks
Total Illegal Immigrants Arrested on State Felony Human Smuggling Charges Now Stands at 1,538
(Phoenix, AZ) Sheriff's deputies arrested 32 more illegal aliens last night on felony human smuggling charges during an investigation in the North Valley, Sheriff Joe Arpaio says.

During that investigation, deputies found 17 illegal aliens inside of a load vehicle, all of whom admitted they paid between $1,200.00 and $3,000.00 to secure illegal entry into the United States.

The investigation later led Sheriff Arpaio's human smuggling deputies to a drop house located at 6814 West Holly Street in Phoenix. When they arrived, 19 additional illegal aliens were found and arrested. Many attempted to flee on foot but all were apprehended.

Thirty-two illegal aliens are now in the process of being booked on state felony human smuggling charges.

"My promise to the citizens of this county is this: as illegal aliens continue to pour into this county, and they will, my deputies will meet them head on within the borders of this county with an equal degree of determination to stop them in their tracks," Arpaio says.

Arpaio, whose law enforcement agency is the only one in Arizona to enforce all aspects of the state felony human smuggling laws, says he will not be deterred by threat of an investigation or intimidation by the federal government.

"I would be remiss in my duties as Sheriff by succumbing to the pressures of those fighting me on this issue," Arpaio says.

The Sheriff has ordered his deputies to continue their crack down by enforcing all of Arizona's illegal immigration laws.

Arpaio is in the process of deciding whether or not to continue the 287G agreement he has had with the federal government since 2007 which was just recently overhauled by the new administration in Washington.

Now if we can just get a few more Sheriff Joe's in this country.