| | |
| --- | --- |
| By / July 2, 2009 08:55 AM | |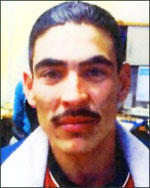 The sentence of
Osvaldo Aldrete Davila
to
9 years and 6 months in prison back in August, 2008
was upheld by the the 5th U.S. Circuit Court of Appeals in New Orleans. The sentence was an outrage as it was a lesser sentence than border patrol agents
Ignacio Ramos and Jose Compean
received, which was 11 and 12 years respectively.
Since that time Ramos and Compean's sentences were commuted and they have been released from prison, but the outrage at the light sentence for Davila remains. This appeal denial is the least that the justice system can do to send a message that drug smugglers do not have free reign over our borders.

A federal appeals court has upheld the prison term for an admitted drug smuggler wounded in a controversial shooting by Border Patrol agents.

The 5th U.S. Circuit Court of Appeals in New Orleans on Monday upheld drug smuggling sentences totaling nearly a decade in prison for Osvaldo Aldrete Davila.

Aldrete was shot by two border agents, Ignacio Ramos and Jose Compean, in 2005 while trying to smuggle a load of drugs into Texas. He pleaded guilty to smuggling more marijuana several months later.

Tipped by: Reader Patriot Robin In California


This entry is in the following archive(s):
Next and Previous Entries:
Posted by Digger on July 2, 2009 08:55 AM (Permalink)

He's already getting 10 years for smuggling marijuana. What else could he possibly get convicted on?
What do you want? Life? I think the charges those thugs Ramos and Compean got are a little serious than smuggling pot.
Posted by: oHnO on July 2, 2009 09:10 PM
oHnO, defending your country requires no jail time, it requires a medal. I hope the bill for jail costs is sent to this illegal alien's country. All illegal aliens should be jailed and the bills submitted to host countries.
Posted by: Kenneth E. Pope on July 3, 2009 01:30 PM
Shooting a drug mule in the butt mutiple times does not make one hero..Border Patrol has a tough job and most do it well. These two guys did'nt. Unless Compean and Ramos have silver, bronze, or purple heart medals I don't consider them heros... I have met a couple of border Patrol men that did heroic deeds.One of them was instumental in keeping a desert crosser who he found almost dead and dehydrated alive. She lived because of him...The force used by Campean and Ramos was questionable and the coverup was criminal... Hero is a word reserved for real deeds of courage under pressure or fire, and that wasn't the case here.
Posted by: Riata on July 15, 2009 05:58 PM
Just for the record both Ramos and Compean were ex-military. Ramos was up for Border Patrol Agent Of The Year. Both of them had received medals. On top of that they testified that the smuggler pointed what looked like a weapon at them as he retreated across the border. If these two were criminals there would be other misdeeds attributed to them over the decade+ that they served the border patrol.
What makes you so sure that Aldrete Davilla didn't point a weapon at them? The only testimony that he did not was by Davilla himself. Not exactly a high class witness. And not someone I would believe over two decorated military men and long time border agents.
Posted by: Digger on July 16, 2009 05:03 AM
Johnny Sutton should be behind bars.
Posted by: Herman King on August 17, 2010 09:25 AM
The only reason Ramos and Compean were indicted was because of the mexican consolate. They protect their citizens who are here illegally better than our justice department protects its own citizens. The feds did'nt want to set a bad precedent by allowing border guards to actually shoot someone.This might get out of hand. Hey, I know, lets indict them.Thyen again, I blame the dumbass jurors who know nothing of jury nullification. Wake up people
Posted by: wuzentme on September 25, 2010 09:41 PM
WHY IS DAVILA STILL ALIVE?? PIECE OF GARBAGE!
Posted by: JUDY on November 27, 2010 11:44 PM