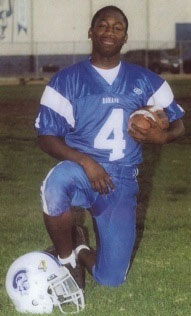 Jamiel Shaw Jr.
was killed by illegal alien gang member Pedro Espinoza just hours after being released by the Los Angeles County Sheriff's Department rather than being deported out of the country. Since that time the Shaw family has been pushing for a law that would repeal "Special Order 40" in Los Angeles that prevents law enforcement from questioning a persons immigration status, thus making it a defacto Sanctuary City.
Several rallies were held in honor of Jamiel Shaw Jr. and for the law
Now the Shaw family is suing the Los Angeles County Sheriff's Department.

The family of slain high school football star Jamiel Shaw II is suing the Los Angeles County Sheriff's Department, alleging that the department was negligent in releasing Shaw's suspected killer from prison despite his illegal-immigrant status.

The lawsuit, filed Friday in Los Angeles County Superior Court, names Sheriff Lee Baca as a defendant and alleges that he 'knew or should have known that they were releasing a convicted felon and illegal alien with an extensive history of gang violence into the Los Angeles community to perpetrate killings against African Americans.'

Shaw, 17, a running back who was recruited by Stanford and Rutgers universities, was gunned down in March 2008. Prosecutors allege that Pedro Espinoza, a reputed member of the 18th Street gang who was in the United States illegally, killed Shaw. Espinoza, 19, had been released from jail a day before the shooting, after serving time for an earlier offense.

...

The lawsuit also alleges wrongful death, civil rights violations and a violation of the U.S. Immigration and Nationality Act, which empowers local police agencies to enforce immigration law.

"We think that [Shaw's death] could have been avoided, had they simply made use of the resources they had," said Wesley Profit, an attorney representing Shaw's family. "It's not as if [Espinoza] was new to the system. . . . He's been in the system since he was a juvenile."

Tipped by: Illegal Immigration News

My heart goes out to this family and I hope they win this battle. It is a shame how our elected officials turn a blind eye to illegals in this country. It is a well known fact that there are illegals here that rape, murder and steal from American citizens and someone MUST be held accountable for allowing this mess to continue. We DO NOT reward bad behavior and think it will stop!!!!
Posted by: Sabrina on May 14, 2009 11:43 AM