The Bucks County, PA Tea Party was held Saturday April 18, 2009 at Washington Crossing Memorial Park, the location where George Washington crossed the Delaware river on his way to Trenton, NJ to confront the British. An appropriate place for Americans to stand up and demand that their government stop ruining this great country.

I'm not an expert with crowd figures, but my estimates would be between 1,500 and 2,000 attended the event - all patriotic Americans from all stripes of life. The event was excellently put together by the Kitchen Table Patriots , Mariann Davies and Anastasia Przybylski via the website Tea4Change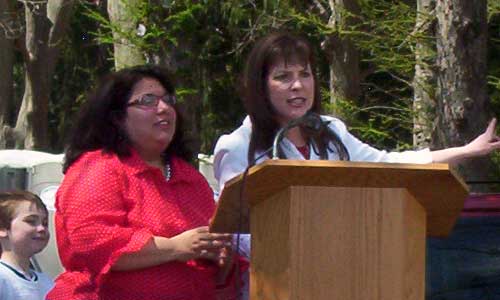 Mariann Davies and Anastasia Przybylski, The Kitchen Table Patriots
The weather was outstanding, floating in the high 70's to low 80's with the sun blazing bright in the sky. The event was held from 1-3PM and I have the sunburn to prove the weather. My left arm and left side of my neck is red, the right side... not so much.
People were of all ages. Below is my favorite picture from the Tea Party because this is what it is all about.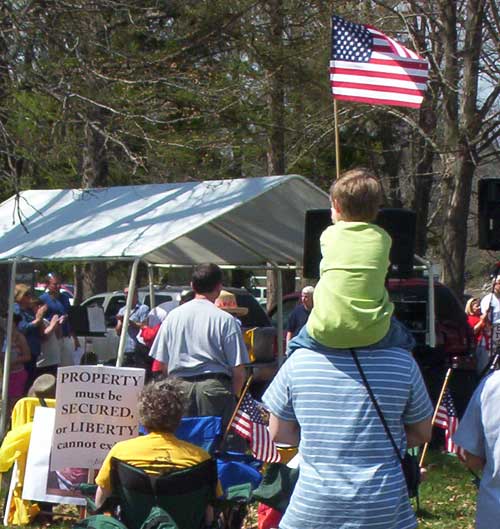 (More pics and the videos continued below)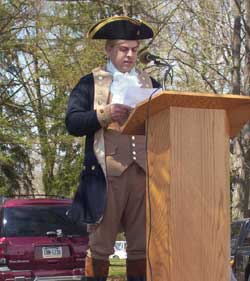 Lots of people brought chairs and set them up. As the speakers made their speeches many in the crowd yelled out support, commentary and adulation for someone
finally
saying what they've been thinking. My opinion was that many of the people who attended had never been to a rally and hopefully this will get them involved in something they may have been angry about, but not taking action on for a very long time.
There were quite a few George Washington's wandering the crowd as is appropriate for the location.


"The marvel of all history is the patience with which men and women submit to burdens unnecessarily laid upon them by their governments" - George Washington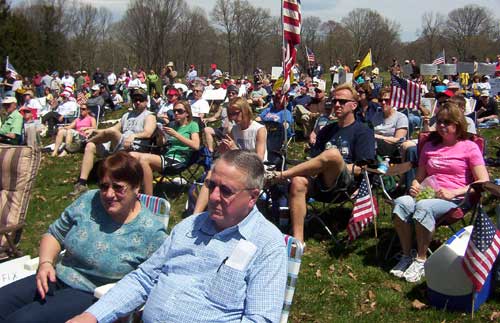 Ruth and I had a few friends ride up with us, Beverly and her husband Carey (sorry if I spelled your name wrong)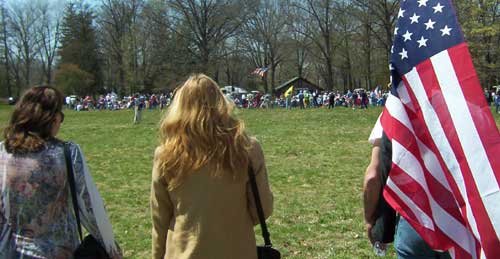 And in we go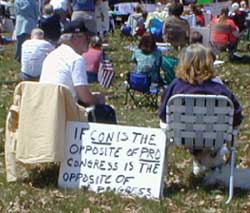 Oh yes, I know you're looking for the signs. Isn't everyone? Well there were plenty of signs at the event, and while I couldn't get them all I tried to get as many as I could. I found the statue of liberty mask one just a little creepy though hehe.
I could feel the patriotism oozing off of everyone at the event and I wanted to literally grab the crowd as a whole and give it a big hug. These are my fellow Americans - My brothers and sisters, my mothers and fathers!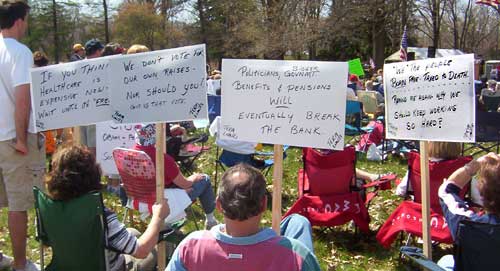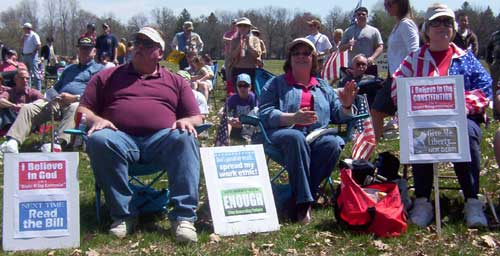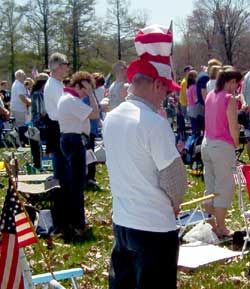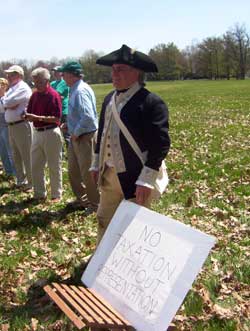 What a wonderful event.
Only critique I could give is that there were A LOT of speakers, a few of them politicians (for this event I felt politicians were a little out of place, but I'm sure others would feel differently as these were politicians against taxes). It's not easy to set up these events and sometimes speakers cancel, so when they all show up...
Ruth of Illegal Protest couldn't get video of all of the speeches and one of the reasons is that we forgot the tripod! Holding it up and steady is tough. I apologize to those speakers whom we missed videoing, your speeches were worthy of being captured.
Participants:
Master of Ceremonies - Gary R'nel of WPHT 1210AM
Speeches were made by "George Washington" Gregory Marra, State Rep Scott Petri, Kelly Unger, Dan Worden, Ilka Werner, Jeff McGeary, State Senator Chuck McIlhinney Jr, Ryan Manion, C.J. Davies, State Rep Marguerite Quinn, Brenda Bossard, Rob Mitchell, Bucks County Commissioner James Cawley Esq., Brad Childs, Ana Puig, Tom Lingenfelter, Doreen Linder, Mariann Davies, Anastatia Przybylski
Performances:
"National Anthem" - Thomas Bethman III
"You Raise Me Up" - Thomas Bethman III
"God Bless The USA" - Violin solo by Brendan Leary
"God Bless America" - Elizabeth Allen
Videos Below
National Anthem by Thomas Bethman III, Pledge of Allegiance, Speeches by Kelly Unger, Dan Worden and Ilka Werner


Speech by Jeff McGeary


Completion of Speech by Jeff McGeary, "You Raise Me Up" by Thomas Bethman III, Violin solo of "God Bless The USA" by Brendan Leary


Speeches by CJ Davies, "God Bless America" by Elizabeth Allen, closing by Gary R'nel and closing thanks from Anastastia Przybylski and Mariann Davies


Just found out that a fellow blogger Crawfish was at the event as well and has his report and pictures here