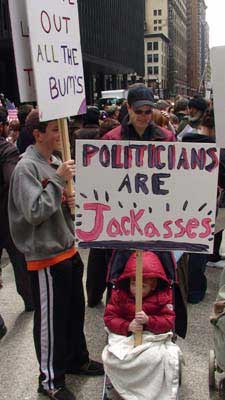 From Chicago the Freedom Folks have some pics in two posts (
here
and
here
) of the crowd and great signs and
the video
of the Chicago Tea Party you see below. Including one idiot who drove by and said the rally was racist, despite the fact many minorities attended the event as can be evidenced in the video below.
Some video after the CNN cameras shut off of Susan Roesgen's disgraceful attacking of American taxpayers.
Don't know who John Galt is? Well those in the video know.



More video below.
Phoenix

San Antonio Tea Party at the Alamo

Washington DC

Raleigh protest from Russ Just Russ
More at Michelle Malkin