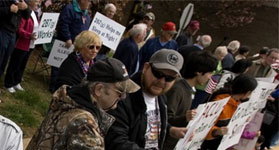 Below you will find a video of the rally in Alamance County, NC in support of
287(g)
with my analysis of media bias.
The rally was put together rapidly by NCListen, NCVoice to counter those who support illegal aliens, drew a crowd that outnumbered illegal alien supporters 3:1 - a huge success that you will not see mentioned in the video media report below.
According to them it was "dozens" who rallied for 287(g), while illegal alien supporter numbers aren't mentioned at all, but the focus is solely on 7 law breakers who were arrested for blocking the doors to the jail. Those rallying for 287(g), Sheriff Johnson and law enforcement received very positive statements from the Sheriff.
Johnson said he was touched by the people who came to the streets to show support and appreciation for him, his office and the 287(g) program.

"It made me feel good," he said." Certainly, being sheriff, I'd begin to worry if I was the only one who worried about criminal activity."

The kicker to all of this though is...
The illegal alien supporters actually sent a list of names of those who planned to be arrested to the media in advance.
"They promised us they would follow every order, directive from us," [Sheriff Johnson] said. He said that before the marchers arrived at Graham, he received from the media a copy of a list the group had prepared with the names of the people who wanted or were willing to be arrested.
Yes, the media received the list of names of those planning to be arrested and the media had to give that to the sheriff.
Here's more of what Sheriff Johnson had to say:


"I felt like they lied to us. They said they were going to be orderly," he said. "They say they are a non-violent, follow-the-law organization," he said, adding that the Graham police had no other choice but to arrest those who were blocking the entrance after several requests to move.

He said the protesters' attitude said a lot about the group's leaders.

And about those arrested - whose full names are present in media reports because they were so kind as to plan their arrests ahead of time - they staged a little side show. Trying to play on legal immigration and the Statue of Liberty as being behind their cause. Note that "Lady Liberty" doesn't say anything about "give me your lawbreakers, criminals and thugs, those who can hop the border at will without regards to their prior cirminal history or intent in the United States." These people wanted media attention? Well here's some for you, you sellouts to the American people.
MINUTES BEFORE being arrested for disorderly conduct, Lady Liberty, later identified as 44-year-old Audrey B. Schwankl of Pittsboro, walked through the Alamance County jail's parking lot as marchers shouted "Arrest her, arrest her! She is illegal!"

"What happened," she said as two marchers wearing mock immigration enforcement gear approached to handcuff her. "I thought we were here for the poor, for the tired... Your grandparents, they came to me too, and some of them did not come legally either. I, the mother of exile, was here for them and now for you and for the next wave."

She added, "Maybe there is no room for liberty anymore. Liberty has been arrested here in Alamance County."

Besides Schwankl, also arrested and charged with disorderly conduct were the following march participants: Francisco Javier Risso, 37, of Morganton; Patrick M. O'Neill, 53, of Raleigh; Deborah J. Biesack, 44, of Fuquay-Varina; Wendy K. Michener, 52, of Fayetteville; Graymon J. Ward, 24, of Knightdale; and Juan C. Montes Corrales, 44, of Valdese.

And they were outnumbered 3:1 on short notice ...
Pro-immigration enforcement protesters outnumbered illegal aliens and their supporters by over three to one, during the dueling protests in Alamance County on April 8, 2009.

The national organization, ALIPAC, joined forces with the state groups of NC Voice, NC FIRE, and NC Listen to quickly arrange a counter protest, after the pro-Amnesty group "Witnesses for Peace" announced a march against Alamance County Sheriff Terry Johnson for his use of the popular 287(g) program, which helps local police determine the immigration status of those they arrest for crimes.

"People came from across the state, but the people in Alamance County were very active because of the death of Mr. Barber on Sunday," said William Gheen of ALIPAC. "The polls tell us that American citizens favor the 287(g) program 4 to 1 and our superior numbers on Wednesday reflect that trend."

...

"The 287(g) program saves lives and property from illegal aliens involved in broader criminal conduct," said William Gheen. "That is why the illegal alien supporters had so few people at their protest and we had so many on our side."

Alamance County,NC Rally For 287(g) with Commentary by Digger


Update: Apr 13, 2009 6:29 PM
Another patriot has put together a rebuttal video of points made by those who supported illegal aliens at the Graham, NC rally. Watch it below: