Chrysler, fresh off of receiving billions of taxpayers dollars, actually had the audacity to spend hundreds of thousands of dollars to take out full page ads thanking Americans for "investing" in their company. Yeah, they dubbed it "investing" as if both you and I did our research and decided that out of all the things we would like to spend it on or invest in, Chrysler was the best bet.
I have never bought a Chrysler/Dodge/Jeep vehicle and I never will.
The absolute arrogance of this move by the car company, which actually used the "investment" to purchase the ad, just shows that they have absolutely no clue what the hell they are doing. It also shows that our so called leaders in Washington also don't know what the hell they are doing. Unfortunately most Americans in this country went to the polls this past November and voted these idiots back into office so they can continue raping and pillaging our country to the tune of trillions.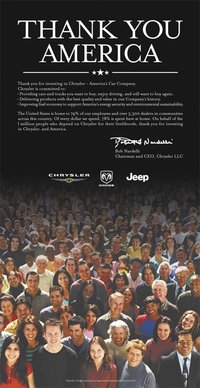 You can see the ad to the right (click for larger image) and here is what it says:
---
Thank you for investing in Chrysler - America's Car Company.
Chrysler is committed to:
* Providing cars and trucks you want to buy, enjoy driving, and will want to buy again.
* Delivering products with the best quality and value in our Company's history.
* Improving fuel economy to support Americas energy security and environmental sustainability.
The United States is home to 74% of our employees and over 3,300 dealers in communities across this country. Of every dollar we spend, 78% is spent here at home. On behalf of the 1 million people who depend on Chrysler for their livelihoods, thank you for investing in Chrysler, and America.
Bob Nardelli
Chairman and CEO, Chrysler LLC
---

The ads ran last week in several major daily newspapers, including USA Today, The Wall Street Journal and the Atlanta Journal-Constitution. Since USA Today and The Wall Street Journal are two of the highest-circulation newspapers in the country, full-page ad rates are steep. A full-page ad in The Wall Street Journal runs between $206,000 and $264,000, and a full-page ad in USA Today runs between $112,000 and $217,000.