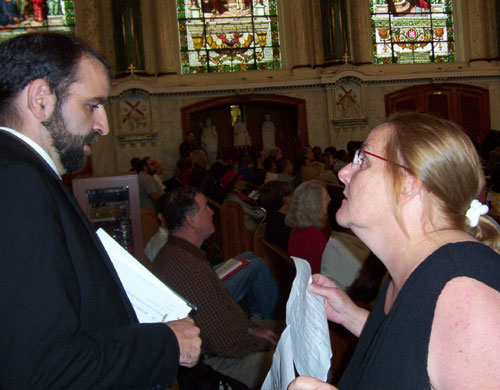 Patriot Maggie Confronted - Her Free Speech Violated
I attended the very first Southeastern Pennsylvania First Suburbs Project in Norristown, PA yesterday, Sep 28, 2008. The event was attended by left wing organizers and their volunteers from throughout the area, but was also open to the public if you registered.
The First Suburbs Project is a far left organization that has ties to many organizations and people, leading all the way back to George Soros. Big surprise there.
I'll admit I did not want to go. Who wants to listen to that clap trap for 2 hours? Well we made the journey anyway even though it was raining heavily. We entered the church and sat in the back pew. We remained silent throughout and did not disrupt their self-important gathering.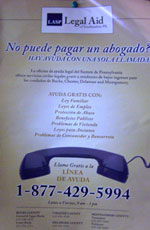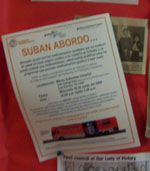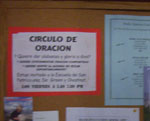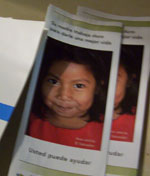 Some of the bulletin board items
It was dominated by
Spanish language items.

Somehow I doubt
Patriot Maggie would receive
legal help from the top item

Bottom item reads:
"Her mother works hard
to give a better life"

The event was held at
St Patrick's Parish
in Norristown - which apparently is heavily supportive of illegal aliens from the materials I found throughout the church - and ran for two hours of ridiculous babble patting themselves on the back and reading off a list of demands, from better sewage to better schools. The local politicians that attended obviously were already in agreement with this group and they went issue by issue making demands and then asking the politicians, "will you pledge to support this?" to which they all replied yes. Big surprise there. Of course there were no specifics in any of the demands or responses.
People in the audience made signs throughout and held them up. And this is where the free speech was shut down.
Pennsylvania Governor Ed Rendell was slated to attend at the end of the "event". He was late and many people left before he showed up. When he did, Patriot Maggie, who was with us, made her own sign for the governor and the people listening to all of these proposed spending items. Rendell went over how there was a current deficit and no way to pay for all these things, but he would try.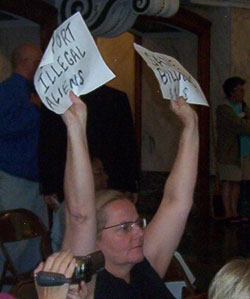 Save Billions - Deport Illegal Aliens


Maggie stood up when they introduced him and held up her signs and stood silently. She made no comments, no loud noise, she stood as others had that day with their signs. Except her sign had an actual solution on it for ending the deficit and getting their projects funded.
They did not like her proposed solution though and in the video below you will see how her ideas were ripped up in anger by organizers and a church supporter. Watch the whole thing below.
When asked for the man's name it was not given. When the woman behind me was asked his name, she replied "I don't know" and again later when we were leaving she was asked again and denied knowing the man.
During the incident, and you can hear in the video, one of the organizing women asked me "What organization are you with?". I replied "The United States". She looked dumbfounded at me as if she didn't know how to reply, then came up with a real uncommitted response of "so am I". My reply... "Are you?" At that instant Patriot Maggie's signs were ripped from her hands and torn up in anger by the man. It is amazing that her free speech rights were violated at that exact instant as if exaggerating my question of "Are you?" and them giving their response.
I have to give credit to two politicians at the event who stood up and were truthful, much to the chagrine of the audience. State Rep Greg S. Vitali, D-166th District and State Senator Anthony H. Williams. Williams said outright "What are we saying yes to? ... For us to say yes to spending money is, frankly, bogus. We need to talk about how we're spending money." Both of them received heavy applause from our group of 4, and little from the audience, who apparently thought just saying "we want better schools" is enough description.
Video shot by Ruth of Illegal Protest
Edited by: me.
Update
Oh yeah, I forgot to mention that one of the first things this group did at its very first event is beg for money and pass around a church basket that you could place envelopes in with your cash and name and address. So I guess they can call you and beg for more in the future. Just remember, they haven't actually done anything yet. And under the guise of being a church function, being in a church and perceived, if not outright, sanctioned by the church, I'm sure that many gave feeling guilty if they didn't that God would not like them if they didn't.
Pretty shameful, but apparently these anti-American groups have no shame when it comes to their own paychecks for doing nothing.