Oh sure, it's fine to sit around and complain and bitch and moan about illegal immigration, but what are you doing about it? Many do not have the time, they're afraid to personally act or they just don't know what to do to help the fight against illegal immigration. Fine, I will accept that, it's a fact of life, but you do have the one thing that can help those who will stand up for you and not just talk the talk, but walk the walk.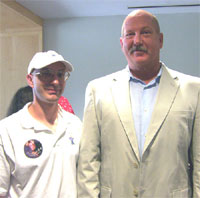 Digger (left) and D.A. King
There is one man in Georgia who has been walking that walk for more than half a decade and gotten some some real legislation passed in Georgia and that is D.A. King of the
Dustin Inman Society
. The society is named after a boy who was killed by an illegal alien drunk driver.
I ask you now to donate what you can to help this humble man in Georgia who simply hates to ask for money, but has gone as far as mortgaging his own home to continue the fight. Those opposed to us are outdoing us in the funding department.
So go now, donate $25 at the very least - or more if you can afford it. It will be going towards someone who is taking action. And if you don't think that laws passed in Georgia can affect you, well you'd be sadly mistaken. many of the laws passed in Georgia are being adopted in other states.
So do it now!
To donate online go here.
To mail in a check send it to:
The Dustin Inman Society
3595 Canton Rd.
A-9/337
Marietta, GA 30066
Fax 770 427 9998
Now a word from D.A. King himself:


I don't know how else to say it, and am very uncomfortable bringing the subject up - but the fact is that I cannot continue the fight without your financial help.

For those of who are new on the list I need to make it clear that this is not a paying job. I quit my own business in 2003 to try to make a difference. I have posted a bio HERE. I am very proud of what we have done and would do it again, and I hope to keep doing what I think is right.

Again - I need your help. A growing number of our supporters live outside the state of Georgia, I hope that these folks realize that what we accomplish here effects every state and that most of the laws passed in other states addressing illegal immigration were patterned after and helped along with Georgia state Senator Chip Rogers' Georgia Security and Immigration Compliance Act of 2006.

The most aggressive, militant and far left open borders organization opposing Americans who want a lawful Georgia here is the Sam Zamarripa/Jane Fonda funded Georgia Association of Latino Elected Officials (GALEO). Despite its benign name, GALEO is run by a former MALDEF goon named Gerardo E. (Jerry) Gonzalez and in addition to leading illegal aliens in marching in the streets of Georgia demanding and end of any enforcement of American immigration laws, Jerry and Co. also lobby against passage of further state legislation aimed at illegal immigration.

Illegals are the stock in trade for these well funded leftists.

I am out of money and cannot compete with these people without your help. Please see here(PDF) and here for an idea of how well organized and underwritten these people are.

Help D.A. King out. Donate now!