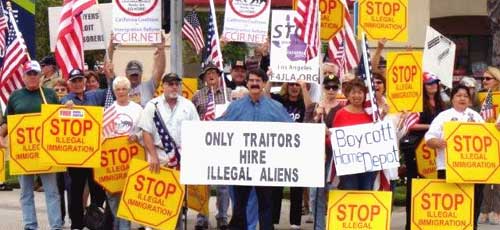 A Minuteman rallying against a day labor site at the Home Depot in Westminster, CA was attacked by a man who pulled up in a vehicle. Here is what happened according to
No More Invasion
. An illegal alien supporter pulled up in a vehicle to the group of 40-50 patriots who had been rallying for about an hour. Clearly his intention was to confront the Minutemen as can be seen below. Unfortunately for him he picked a Vietnam combat war veteran.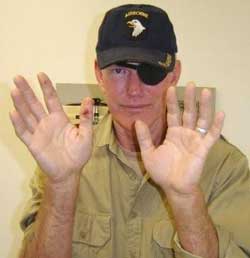 Kingfish - Hands of Danger
He asked "You Minutemen?" No one answered at first, then Kingfish stepped forward and stated "I AM."

"You are sick!" The man yelled.

"And you, are a little overweight" Kingfish replied.

What ensued next is that the goon got out of his vehicle and tried to punch Kingfish. Kingfish blocked the punch and landed a blow of his own. He then used a maneuver to take the man to the ground and restrain him until police
arrived. The man bit Kingfish on the thumb while he was being restrained.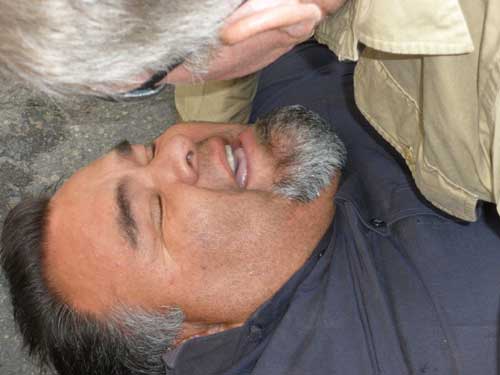 Goon restrained by Kingfish (picture courtesy of Cheryl)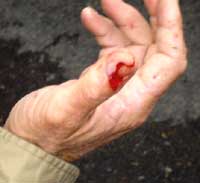 There was video of the assault, which the illegal alien supporters thought would show that Kingfish was in the wrong. After reviewing the video though police took the goon into custody.
Kingfish was taken the urgent care where he was prescribed antibiotics for the human bite. The left hand was x rayed and a bone contusion was noted, with no fracture.
And this just in from Robin of the Minuteman Project:
"The left hand was x rayed and a dislocated thumb, bone contusion was noted, with no fracture. He has a large deep bruise and swelling of the left hand - this is the hand that blocked the punch."
and also this report on what the store said about the incident:
... PER OFFICER STORE MANAGEMENT DOES NOT WANT THEIR CUSTOMERS BOTHERED AND THEY WILL MAKE A CITIZENS ARREST IF BOTHERED AGAIN. THEIR PROPERTY IS PRIVATE PROPERTY.
If you'd like to voice your opinion on Home Depot allowing a Day Labor Site to exist on their property you can contact them below.
The owners of the property, Weingarten Realty, can be reached at: 714-899-6888 or 1 800-837-4775
Westminster Home Depot can be reached at: 714-373-5333
Store Manger: Lyndie Lewis
Asst Manager: Chris Shepperd
More at the No More Invasion forum.
Tipped by: Campo Minutemen