Congressman Dana Rohrabacher was the guest speaker April 26, 2008 at the Free Ramos and Compean rally held outside his offices in Huntington Beach, California. Reader Robin sends in this photo report of events that day. Reader Lone Wolf provides video below the report including Rohrabacher's speech and patriot coverage. Thanks to all of you who continue to rally for the freedom of these two wrongfully imprisoned agents.
---
4/26/08 UPDATE FROM Agent Ramos' father-in-law, JOE LOYA, who was our virtual rallier via his El Paso, TX telephone - stated that Agent Ramos' son is improving after being hospitalized - and is under a physician's care - further tests are scheduled.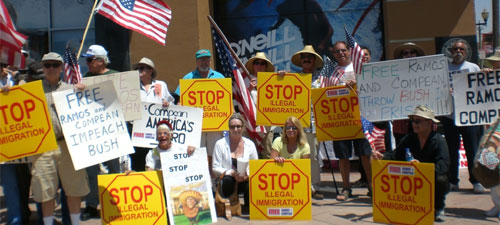 FREE RAMOS & COMPEAN RALLY
Huntington Beach, CA April 26, 2008
RALLY AT THE BEACH...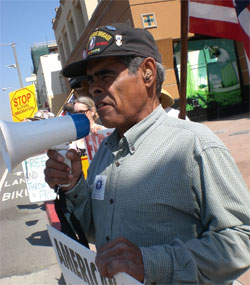 Minuteman Project National Rally Spokesman Raymond Herrera leads the beach-view rally line. George Putnam
http://www.cableradionetwork.com
announced the rally and some of his listeners joined us!
| | |
| --- | --- |
| Minutemen Project and Campo Minutemen | Rallying for RAMOS and COMPEAN! |
| | |
| --- | --- |
| FIRE JOHNNY SATAN! | Recruited! |
We set up a Free Ramos and Compean activist table. Above, passing bicyclist signs letters to Agents Ramos and Compean at the activist table.

Many passersby said that they listen to KFI 640am Agents Ramos and Compean coverage on the John and Ken Show. John and Ken will be hosting a benefit for Agents Ramos and Compean on Tues, May 6 at 7:30pm http://www.johnandkenshow.com/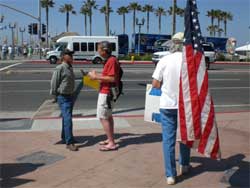 We distributed literature on how to become a Ramos and Compean activists - above Raymond Herrera speaks to a man, red shirt, who said he "wants Ramos and Compean FREED NOW!!" He said he would make calls to his congress member, etc.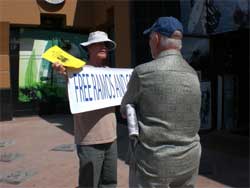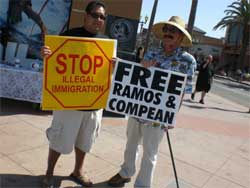 Passersby signed letters to Agents Ramos and Compean, were given FREE Ramos and Compean bumper stickers as well as an opportunity to sign a get well card for Agent Ramos' youngest son.

Congressman Dana Rohrabacher
http://rohrabacher.house.gov/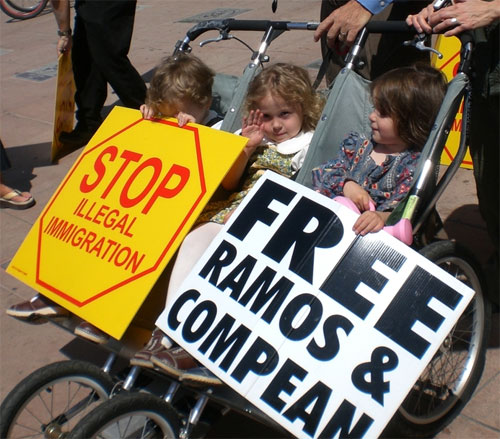 The congressman's triplets, above
Congressman Dana Rohrabacher and his wife and triplets joined us at the rally, in front of his Huntington Beach office.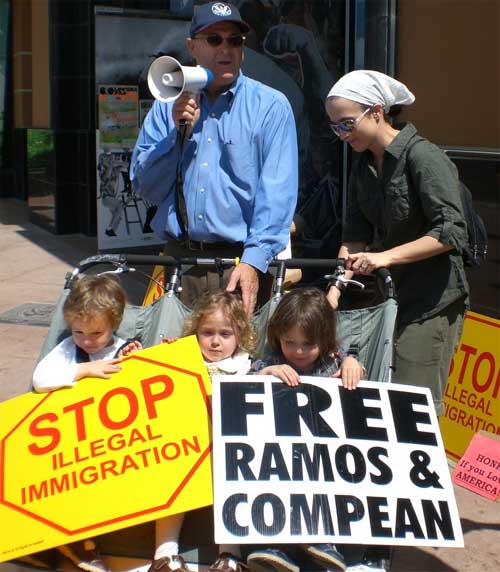 With triplets in tow, Congressman Rohrabacher gave a rousing speech in support of Agents Ramos and Compean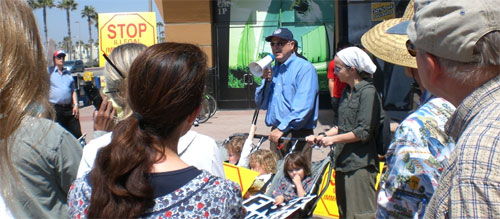 Congressman Rohrabacher addresses the crowd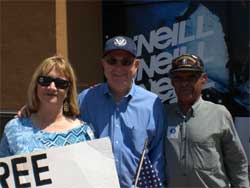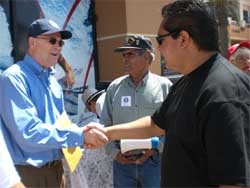 Agent Ramos' father in law JOE LOYA our virtual rallier via the telephone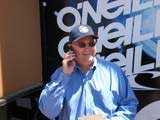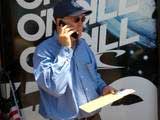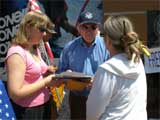 Joe Loya listened to Congressman Rohrabacher's talk via the telephone - then spoke with the congressman after the talk.

The phone was passed around and everybody had a chance to speak to Joe Loya - to wish Agent Ramos' son a speedy recovery - and express our support for Agents Ramos and Compean!
Congressman Rohrabacher signs the get well card for Agent Ramos' son (above left)
NEW RALLIERS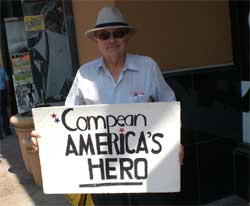 We had several new ralliers join us - I didn't get all of their close-up photos. Sorry about that! The above gentleman joined us after hearing about the rally on the radio - WELCOME!!!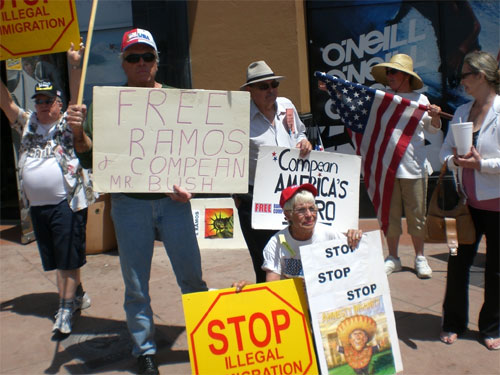 ---
Thanks for your excellent coverage and report Robin and your continued efforts and those of other patriots out in California for this country and these two border agents.
Video of the speech and rally are below thanks to Reader Lone Wolf!