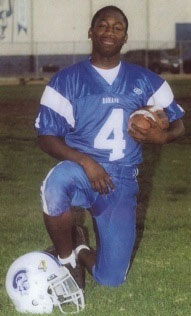 No More Invasion
and
Save Our State
are holding a rally in support of Jamiel's Law that would repeal Special Order 40 in Los Angeles that currently prevents law enforcement from inquiring into legal status of criminals. This "Special Order" was a direct reason for the death of Jamiel Shaw and this young man did not have to die.
This in from SZinWestLA from No More Invasion:
---
Jamiel Shaw had a loving family, athletic talent, scholarship offers, and most of his life in front of him. And in the blink of an eye, it was all taken by an illegal alien who shot him in the head mere hours after said law violator had been released from prison.
Jamiel starred on the gridiron at L.A. High on Friday nights. With interest in his football prowess being signaled from institutions as prestigious as Stanford University, he had hoped to soon be taking the field on Saturdays, instead. Clearly, that won't be happening. Well, on a Saturday in early May, members of Save Our State will step up and stand in his place. His family's loss cannot be for nothing. Efforts to at least revise aspects of the LAPD's miserable Special Order 40 are underway and as Southern Californians, we have a responsibility to support them.
Let's stand up together. Bring signs (Stay on point. Examples: Support Jamiel's Law ; Special Order 40 Kills; Stop Illegal Immigration ; Make Our City Safe ; Secure Our Borders ; Don't Let Jamiel's Death Be In Vain ; Repeal Special Order 40 , etc.) And bring flags. Let the beautful red, white and blue streaming colors fill the sky. This isn't Mexico, if it was, that poor child's death would be acceptable. This is America, and here we stand up when something is wrong, like the disgusting abdication of duty by local law enforcement and our City Council that brought about the Shaw family tragedy.
Folks, let's do this one right!
---
Time and Date:
May 3, 2008 - 11:00
Location:
Just Outside L.A. High School
4650 W. Olympic Blvd.
Los Angeles, 90019
(right next to Koreatown; a specific location will be given in the coming days)
Specifics on this coming rally can be found at: No More Invasion