| | |
| --- | --- |
| By / April 21, 2008 04:07 PM | |
This week's Blogs for Borders from the Freedom Folks covers the "jobs Americans won't do" fallacy. Yes, Americans won't do some jobs, but that is because of the influx of illegal alien labor depressing the wages and allowing unscrupulous businesses to pay below a living wage with no benefits and paying no taxes.
Also in this week's episode 100% Preventable crimes and some wordplay by politicians like Barrack Obama, which requires illegal aliens to become citizens - we must twist their arm and force them - oh the horror.
(Video below)
Download the show for your Ipod here.
Make sure to check out this weeks sponsor: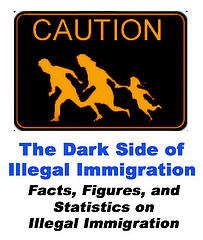 Read The Dark Side of Illegal Immigration a free 28 part report on the impacts of illegal aliens. Including: jobs, crime, disease,economic costs and the balkanization of the United States.
This has been the Blogs For Borders Video Blogburst. The Blogs For Borders Blogroll is dedicated to American sovereignty, border security and a sane immigration policy. If you'd like to join find out how right here.

This entry is in the following archive(s):
Next and Previous Entries:
Posted by Digger on April 21, 2008 04:07 PM (Permalink)

Comments are closed on this article