| | |
| --- | --- |
| By / April 1, 2008 05:38 PM | |
This video in from the Day Labor Site Protest in Ojai Valley, California by members of Save Our State and No More Invasion on March 29, 2008.
GeauxNOSaints organized the protest and as always took extensive video from both sides with his casual and polite demeanor. Those on the other side of the camera supporting the illegal aliens always seem to be shifty and not willing to actually talk openly that they are in favor of breaking the law. I'm not sure why this is. It's possible that some are actually illegal aliens and shy from the camera, but in the case of people obviously tied to groups like the ACLU and others in favor of illegal immigration, they shy from the cameras as well.
I'm guessing it's because they are embarrassed at their beliefs. That they are unwilling to express them because they know they are wrong and aiding the breaking of laws in this country.
As you'll see in several parts below, a few do state their beliefs. That this land should be freely roamed by anyone of Mexican decent, that this land was stolen, that it is racism to oppose illegal immigration, that all the laws are unfair because they've been made by white people and that communism is the way.
Comments from NMI member StandingAlone on the days events.


What can I say, Ojai has never seen anything quite like the demonstration by American's protesting the illegality of DL's. Our American Flags appeared to disturb some who viewed the red/white/blue as an object to be hated, one young man grabbed my flag and attempted to throw it to the ground… I pulled out my pepper spray and the dweebish goon fled half backwards to his corner of the street.

During a break in the loudness and while standing, waving that Beautiful symbol of much turmoil and sacrifice, some of the young faces of the anarchist and communist opposition appeared to soften, perhaps a childhood memory of reverence due " Old Glory."

And a shot from NMI member SmallAndMighty of the "opposition" which mainly looks like a bunch of day laborers who would normally be there and a few families (or maybe they're all in the same family, who knows...).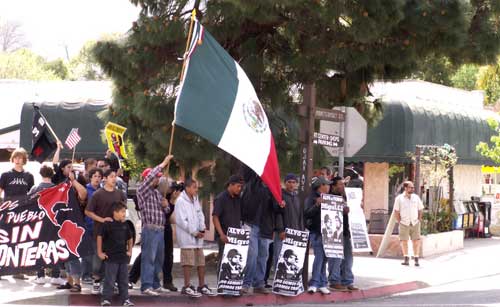 And this from SOS member SZinWestLA


We had Old Glory. They had the Mexican National Flag and the Anarchy Flag. We had signs decrying illegal immigration. They had images of Che Guevara. We spoke of unfair taxpayer exploitation. They yelled about the wrongfulness of national borders and racism.

Ojai Valley Day Labor Site Protest - Part 1
Ojai Valley Day Labor Site Protest - Part 2
Ojai Valley Day Labor Site Protest - Part 3
Ojai Valley Day Labor Site Protest - Part 4
Ojai Valley Day Labor Site Protest - Part 5
Ojai Valley Day Labor Site Protest - Part 6
Ojai Valley Day Labor Site Protest - Part 7
Ojai Valley Day Labor Site Protest - Part 8

More at the No More Invasion forum post and the Save Our State forum post on this event.

This entry is in the following archive(s):
Next and Previous Entries:
Posted by Digger on April 1, 2008 05:38 PM (Permalink)

DEPORT THEM ALL! Report all illegals to ICE:
1-866-347-2423 There are NO EXCUSES for coming here ILLEGALLY, no matter if "they want a better life" -- who doesn't, or "they just want to work" -- tell that to the families of murder/rape/child molestation victims committed by illegals! ENOUGH!
Posted by: April on April 2, 2008 09:13 PM
Posted by: Seenitall on April 3, 2008 08:48 PM
wow thats real mature.
pick on the little kid.
how about show some dumb minute man. there are plenty.
wow cant believe some people can be that ignorant, and he calls himself american
Posted by: peruu on January 19, 2009 05:13 PM
The real beauty of this situation is that most of the guys harassing Mexicans today are of 19th century Irish or German descent.
Posted by: Chris on May 10, 2009 09:54 AM