More than a hundred people showed up to protest the visit of Mexican President Felipe Calderon to the Los Angeles area on February 13, 2008. His visit wasn't to meet with President Bush, but to meet with leaders of groups in the area in favor of amnesty for illegal aliens, politicians who also support amnesty and apparently to lecture the American people on how we would be a complete and utter failure without Mexico.
Robin Hvidston of the Minuteman Project was there and sends in the following report. She was interviewed by Fox News and I include the video below the report. Enjoy.
---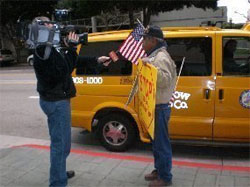 We found out where Calderon would be speaking in the morning and assembled that same evening - Calderon spoke at the Omni Hotel, downtown Los Angeles.
Lots of media, lots of interviews, [to the right] MMP National Rally Spokesman Raymond Herrera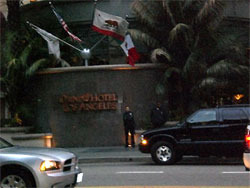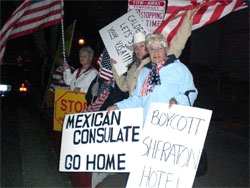 Omni Hotel - flies Mexican flag as Mexican diplomats were on-site. The State Department and law enforcement moved us across the street from the hotel.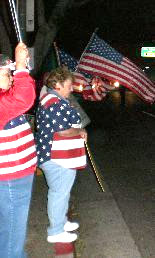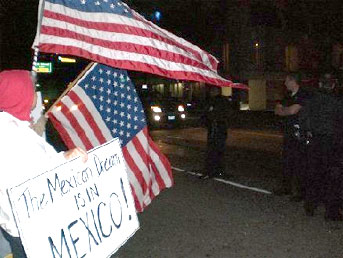 However, we stood DIRECTLY across from the entrance to the Omni Hotel - police wanted to move us further down the street. But we refused and they eventually let us stand right across the street from the entrance to the hotel so that every vehicle arriving passed by our rally line.
Mexican Consuls arrived - I saw the new Santa Ana Mexican Consul Carlos Rodríguez y Quezada drive past us in the passenger seat of the Santa Ana Consul vehicle.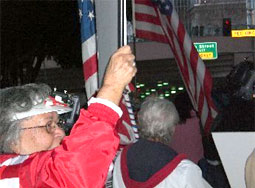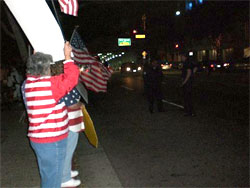 We chanted VERY loudly PRESIDENT CALDERON GO FIX MEXICO. Everyone heard us!
FAPLA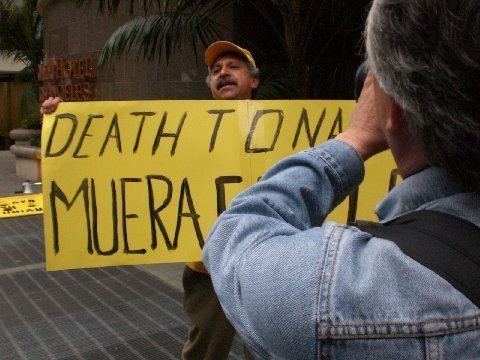 Above, FAPLA, with larger numbers than us, aggressively protested Calderon

The larger organization protesting Calderon was a group of Mexicans demanding Calderon fix Mexico so they CAN RETURN HOME they are the Front Extensive Progressive of Los Angeles (FAPLA).
They did a hilarious performance of George Bush leading Calderon and former president Fox on a leash
| | |
| --- | --- |
| Bush with Calderon on a leash | Bush leading Calderon and Fox - on a leash |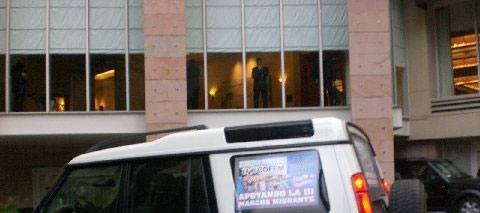 Calderon and those attending the speech were able to watch and hear us as they assembled in the meeting room, you can see in the photo above. The vehicle above had a sign publicizing the Migrant March III.

Above, vehicles arriving had to pass our LOUD chanting rally line CALDERON GO FIX MEXICO
CALDERON MOTORCADE
| | |
| --- | --- |
| Calderon Arrives | Disoriented |

Here we are greeting the Calderon motorcade - the negative greeting was loud and deafening! We yelled with the larger group of Mexicans - ALL of us creating a very hostile arrival for Calderon
Above, there were dozens of vehicles in Calderon's motorcade. The yelling was so loud that some of the vehicle's drivers and passengers seemed to become disoriented.

YOUR TAX DOLLARS AT WORK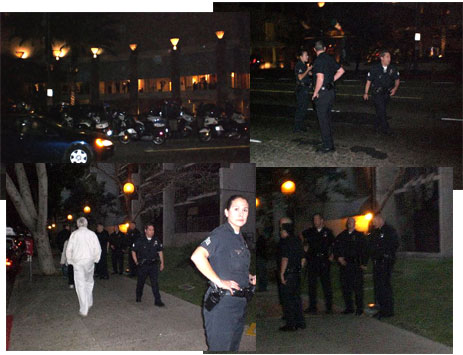 Law enforcement kept a ring around us at all times

There were State Department guys, police officers, secret service, California Highway Patrol, SWAT team members and other law enforcement - outside and inside the hotel Police officers with dogs. There had to have been hundreds of law enforcement specialists - all there to protect President Calderon so he could give a speech that in part berates the American people - on our tax dollars! Law enforcement surrounded us and nonstop monitored us - however, they let us enjoy our first amendment rights! We yelled as loud as we could!
---
(Video below)
Thanks to Robin for the report and for her patriotism!
Want to read more about Calderon protests? See the protest against Calderon in Chicago.