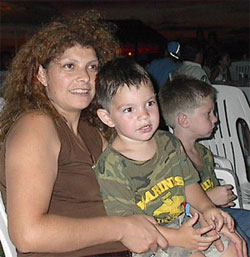 Lilian Clark
is the wife of John Clark, The founder of the Napa Valley chapter of the Minutemen Civil Defense Corp.
Her car was struck by Francisco Pacheco, an illegal alien drunk driver after putting her kids in their carseats. Lilian was pinned between the bumpers of her car and the car that struck her at an estimated 50 miles an hour. Lilian, a legal immigrant from Chile, a loving mother just going about her daily business in the United States, had to have both her legs amputated and will be handicapped for the rest of her life.
As for the driver, Francisco Pacheco was in the country illegally, out on probation on another DUI and had previous convictions, fled the scene of the crime. He was apprehended by neighbors and held for police. Pacheco is now being held in the county jail on a $100,000 bond. He faces a 6 year sentence.
And unfortunately more Americans have to suffer. It's a damn dirty shame that something like this is going to have to occur to an elected official or their loved ones before something actually is done to prevent this from happening to ordinary everyday law abiding people, but I believe more and more that that is what it will take.
Disgusting what our elected officials have become.
If you would like to help Lilian, please send donations to the following location:
Washington Mutual Bank
699 Trancas Street
Napa, CA 94558
Account Name: Lilian Clark and Children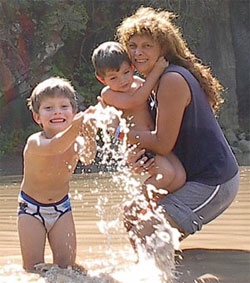 Napa Valley Register
who likes to
censor comments
and has deleted numerous of those speaking out against illegal immigration.
Francisco Pacheco, 24, is in Napa County jail on an Immigration and Customs Enforcement hold. ICE seeks holds on criminal suspects who the agency believes may be in the United States illegally. Such holds may result in deportation.

On Feb., 3, Pacheco, who was intoxicated, was driving his 1990 Plymouth on South Terrace Drive when he plowed into the back of Lilian Clark's vehicle, which was doubled-parked.

Clark, 38, had just finished securing her two sons, 4 and 6, in their car seats and was walking around the back of her car to get to the driver's door. Pacheco hit the rear bumper of Clark's car, pinning her legs between her bumper and his front bumper.

Pacheco, who is on probation for a 2007 DUI conviction, fled. He was chased by Clark's neighbors, who found him about a block away and held him until police arrived.

In addition to the current charges and the 2007 DUI conviction, Pacheco was picked up last July for misdemeanor DUI. That case is pending, according to Napa County Chief Deputy District Attorney John Goold.

Pacheco had no insurance and does not have a valid driver's license.

If found guilty of the charges from Sunday's incident, Pacheco is looking at a maximum of six years in state prison, Goold said.

Thanks to Steve Giraud, MCDC NorCal Chapter Director, who can be reached at: 707-769-8633 for further information on donating to the Lilian Clark and Children Fund
Washington Mutual Bank
699 Trancas Street
Napa, CA 94558
Account Name: Lilian Clark and Children
Also thanks to the Freedom Folks for further info.
Tragedies occur everyday. Our elected officials smile and talk.

Posted by: CAJeffO on April 8, 2011 12:33 AM