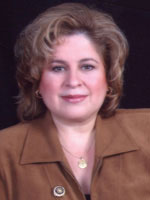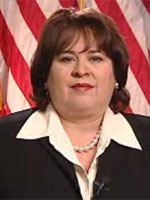 I did not watch the State of the Union speech by President Bush last night. The main reason being I know exactly what he is going to say and I don't need to sit through a bunch of clapping to see the same charade again.
However, there is one interesting aspect to last night's State of the Union and that is the Democratic response, in Spanish, provided by Texas State Senator Leticia Van De Putte. She made her rebuttal, in Spanish. Did I mention it was made in Spanish?
For those of you who don't know Leticia Van De Putte here is a little info for you. Leticia Van De Putte is the former chair of the Texas Senate Hispanic Caucus and former president of the National Hispanic Caucus of State Legislators. She has received the the League of United Latin American Citizens' (LULAC) Legislative Recognition Award, the Mexican American Unity Council's Albert Pena, Jr. Life Time Achievement Award and the Texas Association of Mexican-American Chambers of Commerce with the "Distinguished Leadership Award". In addition she currently chairs the Texas Senate Democratic Caucus.
It is quite amazing in this day in America that our elected officials now have to translate everything into Spanish. Even more amazing is that there is no outrage over the practice. And believe it or not there is even something more outrageous in that the continue to refer to the "Hispanic community" in America as separate and distinct and nobody seems to flinch.
Now I'm not usually one to nitpick appearance, but there is something really telling that I noticed while doing some research on Leticia Van De Putte. You'll see two photos of Leticia Van de Putte to the right. The top image is of her official photo as found on her website at the Texas State Senate (unless they've already removed it since I wrote this). The bottom image is how she appeared to her "Latino audience" as she gave the rebuttal last night. Do you notice anything telling? I sure did and it was striking. To the general populace she projects an almost average "white" look and to "her people" she totally changed her image to appear almost right off the streets of Latin America. That's all I'm going to say about that.
You can read the full transcript of State Senator Leticia Van De Putte's response at Nancy Pelosi's website or see the video below. But here is my commentary on her response.
Under President Bush, Latinos have suffered from stagnating incomes – in fact, the average wage for Latinos has actually declined. At the same time, our families have been burdened by record high oil and gasoline prices, and the housing market collapse has left many of us fearing the loss of our homes. ...

But while I'm concerned about the current state of our country - I remain hopeful and optimistic about our future, and proud of the direction Democrats in Congress have advanced us the last year.

Let's be clear here. I am not taking this transcript out of context. You can go read it yourself. She is outright stating the impact on Latinos only, as if the impact isn't felt by other Americans. Or to put it another way, "who cares about the rest of America, what really matters is what is happening to the Latinos". I would argue that Latino wage depression is because of all the illegal workers coming here and undercutting legal workers here, but I digress. Back to the transcript.
One of the first things Democrats did was to increase the minimum wage ... That resulted in a raise for nearly 2.3 million Latino workers.

...

Latinos own a record 1.6 million small businesses ... Democratic leaders in Congress also succeeded in reducing the cost of a college education for the 1.8 million Latinos who attend college...

We've also worked on one of our greatest challenges as a nation, to unite our people toward achieving our common goals.

Isn't it quite ironic? Worked to "unite the people" of this country by having separate State of the Union responses, one in a different language and targeted to a community, that by doing so, they want to remain outside of the realm of everybody else? Separated? That is uniting?
Okay, you get the hint. This thing goes on and on about "Latino this" and "Latino that", it's all about Latinos. Here's the part on immigration though.
And on issues specific to our community, the President has allowed extremists to dominate the rhetoric on immigration, disrespecting our rich history, and the contributions immigrants have made to strengthen our country. Senate Democrats fought to reach a compromise bipartisan immigration reform bill and brought it for a vote 3 times, but were blocked by the anger of the far right, and Republicans who prefer to use it as a campaign issue than to actually address it. The same happened with the DREAM Act, critical for immigrant children who grew up in America to achieve their dreams of a higher education.
"issues specific to our community"? Lonewacko hits it right on the head with his commentary on this statement...


Needless to say, immigration isn't specific to one "community", and dividing countries into "communities" is what's done in cheerful places such as the Balkans.

And according to Leticia Van De Putte I'm a member of the far right.
Wow, I'm a member of the far right! Who knew? I'm also an extremist and angry.
Well, she is right in one regard, I AM ANGRY! Angry at people like her that try to divide America into separate groups. Angry that people like this "American state senator" feels the need to make a rebuttal in Spanish to a select audience of another race.
Can you imagine if Nancy Pelosi had given this rebuttal? Imagine if she stood up there and spoke about how America hates Latino's and how everything revolves around what "they" and "their community" gets out of all of this and not what the American people as a whole should be expecting from their government.
Enough of this BS being spewed...
America is far stronger when we work to unite, not to divide. ...
... she said in Spanish.