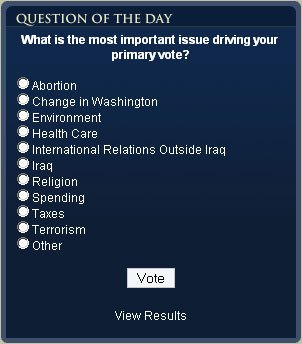 Ruth of
Illegal Protest
was cruising around the
Fox News You Decide 2008 website
after reading my post on
Ron Paul and Duncan Hunter being left out of the New Hampshire Primary Presidential debate
. She noticed something was obviously missing from a selection of "top concerns" that would impact voters decision making in the primaries. (see screenshot of poll to the right)
After leaving the only two proven candidates left, after Tancredo's departure from the race, with proven track records on illegal immigration out of the debates, now Fox leaves illegal immigration out of their polls. They even go so far as to include idiotic top topics like "environment" and "change in Washington" in the poll, but leave out one of the concerns that poll after poll in Iowa alone shows was a top concern of Americans. Now don't get me wrong, environment and change in Washington are some people's concerns, but I doubt seriously if they are the most important issue for a majority of primary goers.
Fox News has some serious explaining to do.

I have decided, FOX is not on my side. I wonder how long it will take the forces of evil to buy Lou Dobbs and Glenn Beck. As you know, they are the only ones in the media left who are on our side.
Posted by: George Parker on January 3, 2008 12:23 PM
ROMNEY FOR PRESIDENT!
If you want to deal with immigratio, he'll handle it! Take a closer look at the candidates and get behind the right man for the job!
Posted by: Charles R. on January 8, 2008 01:59 PM