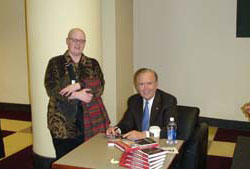 Jake and MJ of the
Freedom Folks
made it down to the Lou Dobbs appearance last night in Chicago and they have up a report on the event, including the absolute ridiculous "oppositions" move to show up at the event and then walk out as if anyone cared that they left.
Head over there and read their coverage. Look at that lucky girl in the picture to the right. Pure jealousy, that's all I have at this moment.
Here's a little taste.
Their intended coup de grace was a young lady, possibly a journalism student (she had that patented 'Kansas' drawl thing going on), who attempted to skunk the Lou by blaming America for the deaths of illegal immigrants on the border. I'm not going to give the whole thing away, but Lou was magnificent, he literally took zero guff, smacking this budding communist down in her tracks with a verve and a flair that had me damn near weeping at the end of it.