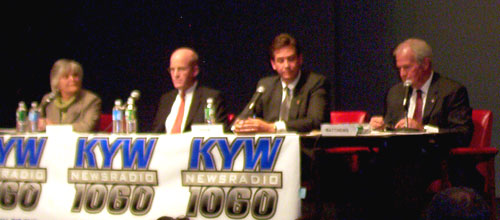 (L-R:) Dansker; Hoeffel; Castor; Matthews
Ruth and I attended the local county commissioners debate for Montgomery County, Pennsylvania (See short video below). While this race may not seem to matter to most of you out there it really is a microcosm of county commissioner races going on across the nation. Jim Matthews, the brother of MSNBC Hardball host Chris Matthews, is running for county commissioner. Ruth, of Illegal Protest, submitted numerous great questions on illegal immigration for the candidates, of which none were selected. As a matter of fact the majority of the questions at the event were really dull. Other than some dealing with traffic congestion - of which one candidate, Ruth Dansker, actually had the idiocy to answer the question by saying we need more hybrid cars - and what needs to be done with returning vets, the questions were idiotic and ridiculous.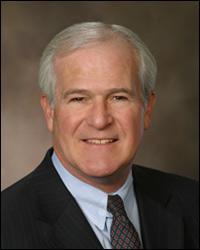 Jim Matthews
However, the last question of the debate was sort of on illegal immigration. Ruth Dansker totally dodges the issue. Jim Matthews however states that it is a federal issue and he refuses to take a stance on the issue when confronted on the Hazleton, PA Illegal Immigration Relief Act ordinance and goes as far as saying, and I quote "I choose not to be drawn into that conversation." I would like to point out to Mr. Matthews that you have no choice on whether to be drawn into that conversation or not. The issue is real - and you as a county commissioner - will have to deal with it whether you like it or not. I'd just like to point out that Jim Matthews has a history in the mortgage industry. I wonder if this may be swaying his opinion on illegal immigration, since they see these illegal aliens as potential clients?
Now don't get me wrong, Jim Matthews is far better than the other two candidates up for election, Joe Hoeffel and Ruth Dansker, who came off as complete buffoons in their responses to questions, but he needs to be taken to task on his lack of stance on illegal immigration. It is really quite ridiculous to be in a position of power in a county and to have no stance on an issue that affects every single voter in that county. It should be noted that Bruce Castor, who is also running on the Republican ticket, is the current District Attorney and has come out hard on illegal immigration.
Ruth and I confronted Jim Matthews on-stage after the debate and I was in such of a hurry to get there before he left that unfortunately we didn't get video or audio of this. I asked him flat out whether he would support 287(g) training for local law enforcement and he said it was not within his power. Ruth tackled him on the county funds going to illegal alien women for giving birth to anchor babies through the Title V program. I have to give it to Jim Matthews he is a consummate politician. He was friendly and looked me right in the eye, but i could tell he was not properly informed on these issues.
It is a typical tactic for local politicians to avoid this issue by stating it is a federal issue, but I believe it is increasingly becoming clear to them that people are fed up with illegal aliens and that they're not going to get away with that tactic any more. I was happy to confront him with it and plant some seeds that we are out there and we are watching. It was also nice that a bunch of people were standing around listening while I grilled him on the issue.
He assured me that if I could send him information on local law enforcement and the 287(g) program at the county level that he would read it. So now I will ask you to help me in sending information to Jim Matthews on implementing 287(g) and why it is local law enforcements responsibility.
Jim Mathews can be reached via email at: jim@matthewscastor.com
(See video below)

Video of Jim Matthews stating "I Choose Not To Be Drawn Into That Conversation." on Illegal Immigration