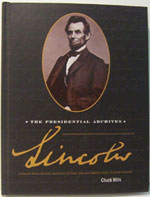 Win one of five copies of the new book
Lincoln: The Presidential Archives
by author Chuck Wills!
I just reviewed this book and you can read my whole review of Lincoln: The Presidential Archives here.
I have contacted the publisher DK Publishing and they have agreed to this contest in conjunction with my review of the book, which I gave a big thumbs up!
Your chances are good at winning since there is not just one copy, but five! All submitted entries will be pulled in a random drawing on Monday November 5, 2007.
So get yourself into the hat today!


Contest is Closed