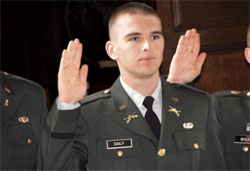 Mark Jennings Daily
I contemplated the title of this entry as I read the below story by
Christopher Hitchens
. I like Christopher Hitchens. He recounts an article that was sent to him about
Mark Jennings Daily
, a 23-year-old soldier who went to Iraq and was killed by an IED. In Mark Daily's letter to be read upon his death, he notes that author Christopher Hitchens was an inspiration and one of the reasons he joined the Iraq fight.
What would you feel? What would you do? I contemplated this as I read the below article that is heartfelt and thought provoking.
Meet Mark Daily...
Christopher Hitchens writing for Vanity Fair


Having volunteered for Iraq, Mark Daily was killed in January by an I.E.D. Dismayed to learn that his pro-war articles helped persuade Daily to enlist, the author measures his words against a family's grief and a young man's sacrifice.

...

I read on, and actually printed the story out, and was turning a page when I saw the following:

"Somewhere along the way, he changed his mind. His family says there was no epiphany. Writings by author and columnist Christopher Hitchens on the moral case for war deeply influenced him … "

I don't exaggerate by much when I say that I froze. I certainly felt a very deep pang of cold dismay.

You simply must read the whole thing
Tipped by: Instapundit (via Tinkerty Tonk)