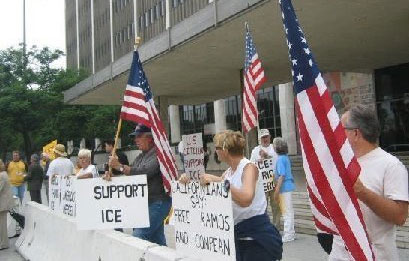 Members of Gilchrist's Minutemen rallied in front of the Los Angeles ICE office on August 23, 2007 to show support for ICE and for the freedom of Border Patrol Agents Ramos and Compean.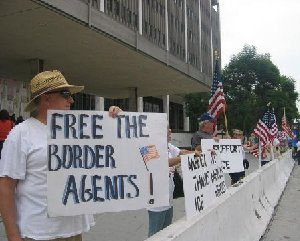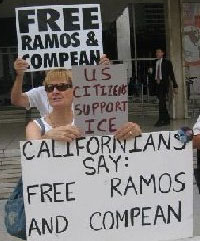 Now I'm not going to go off on a rant about ICE in this post, but I think they deserve very little thanks. About the only thanks I'd give them is for arresting and deporting that annoying little "victim" Elvira Arellano. However, where I take the stick approach it seems the Minuteman Project is trying the carrot approach. Let's see if it works.
They rallied around also in support of the Border Agents.
Here's the report in from Minutewoman and reader Robin (who also appears in the Lou Dobbs Tonight video clip at the end of this entry)
We rallied in support of ICE in the same location where open border advocates have been staging protests opposing ICE and the recent deportation of Elvira Arellano in Los Angeles.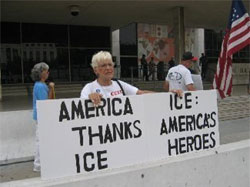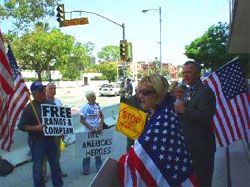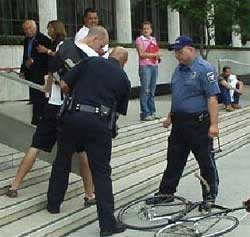 There was a team of police officers on both sides of the street during our rally. We only had one counter protester [pic to the right]

The man in the white shirt in the ... photo sped by our rally line on his bicycle. He yelled at the top of his lungs:
"F... YOU NAZIS," and other obscenities Pedaling fast.

The officer at center in the photo above, sprang forward as fast as a tiger, and masterfully yanked this yelling and pedaling man off of his bicycle.

The counter protester was thoroughly searched. Had to present identification as he was seated on the steps - in front of the ICE office.

He was eventually released - and sheepishly - pedaled off on his bicycle. This was the only counter protester during the rally.

I personally wouldn't call him a counter protester, I'd call him a jackass.
Lou Dobbs Tonight sent out Casey Wian to cover the story and they appeared on the Lou Dobbs show that night (see video below). KFI 640 and Spanish station KRCA also covered the rally.
We chanted WE SUPPORT ICE and FREE Ramos and Compean. Many passersby supported us. Only a few stated they opposed our stance. One ICE staff member thanked us profusely!
Jim Gilchrist addressed the crowd at the rally.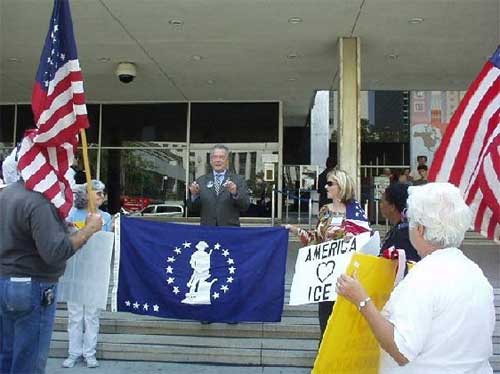 Thanks again to Robin for providing the report and to Dave for some of the pictures.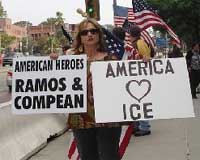 (video below)

Mexico enforces it's immigration laws, why shouldn't we?
I sent an email to Barbara Boxer saying I wanted our borders closed. She sent a reply supporting me and detailing the actions she has taken to close the border.
Two weeks later I sent an email saying I was the uncle of a spanish speaking "undocumented immigrant," saying he thanks her for her compassion towards "immigrants." She replied that he was welcome and she is fighting for "fairness" towards the "immigrants" under assault in America...
Both form letters. Double dealing B***h.
I printed the letters and her responses if you want to see them. Easy to send them to you...
Posted by: ken pope on October 5, 2007 09:43 PM