Senator John McCain's presidential ambitions continue to implode. With his unappealing and unfavorable views on not only the Iraq war, but immigration, it should be no surprise. Now not only has his campaign manager, Terry Nelson, jumped ship, but also his chief strategist John Weaver and other top aides. Of course all of them were worthless.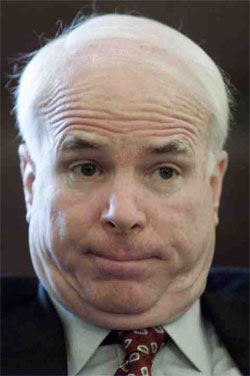 John McCain's Face Upon Hearing The News
More than 80% of Americans are against giving legalization to illegal aliens, yet John McCain has come out steadfast in support of giving them amnesty and eventually citizenship. I'd say that's not a very good strategy, so chief strategist John Weaver really does come off looking like an idiot. "Hey let's piss off everybody in America!" Not a good strategy.
So I am extremely proud to see this happen to John McCain and I hope that this serves as a lesson to all politicians out there that the American people are watching and that if you don't want to enforce our immigration laws then you too can receive the same fate as Senator John McCain.
When he finally calls it quits there will be a celebration all across the pro immigration enforcement landscape.

John McCain's campaign manager, chief strategist and other senior aides quit Tuesday, the second major staff shake-up in a week for the Republican presidential candidate who trails his rivals in money and polls.

In a statement, the Arizona senator said Terry Nelson and John Weaver offered their resignations, "which I accepted with regret and deep gratitude for their dedication, hard work and friendship."

Nelson, a veteran of President Bush's successful 2004 re-election effort, said he stepped down as campaign manager and Weaver, a longtime aide who ran McCain's failed 2000 presidential bid, said he left his post of chief strategist. Both resignations were effective immediately.

Following the two out the door were political director Rob Jesmer and deputy campaign manager Reed Galen, officials said.

...

McCain's popularity among Republicans has dropped since the start of the year, in part because of his support for measures in Congress that don't sit well with the GOP's base, like the immigration bill.

GO AWAY MCCAIN!
Tipped by: Reader Lone Wolf