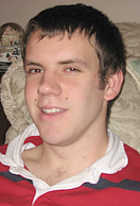 Matthew Watson, 20, was sitting in the passenger seat of a Jeep Cherokee in College Park, Maryland when the vehicle was hit head on by a blue Ford Ranger driven by illegal alien
Never L. Navarro-Montoya
, 24, who was drunk, had no drivers license and had fake documents he had purchased in Texas. The Jeep rolled over with two other occupants in it. Never L. Navarro-Montoya jumped out of the Ford Ranger and fled on foot. He was found a third of a mile from the crash four hours later lying in the grass hiding. Police said he reeked of alcohol when they found him. The two occupants were hospitalized, but expected to survive
Never L. Navarro-Montoya is being held at the Prince George's County Correctional Center on $750,000 bond.

A man accused of drunken driving in a crash that killed a University of Maryland sophomore was in the country illegally...

Prince George's County police charged Narravo-Montoya, 24, of Greenbelt, with driving under the influence of alcohol, fleeing the scene of an accident and possession of false government identification, according to court records. Navarro-Montoya told police he was from Mexico.

...

Friends and family said Watson was known for his one-liners and quick wit.

He would purposely park his car in the middle of the parking lot reserved for marching band practice. "That's so mischievous," his mother, Barbara Watson, said as one of her younger sons retold the story. "Of course, I'm sure they knew whose car it was because he was in the band. He loved to play in the jazz band. He loved music."

His friend, Alex Blatter, now a sophomore at Pennsylvania State University, said that in addition to stalling marching band practice, Watson once arrived at school wearing six or seven polo shirts - one on top another - as a parody of some of the preppier students at Centennial.

"A lot of kids would come wearing [two polo shirts] at our school," said Blatter, who knew Watson since fourth grade. "It was one of the funniest things I've ever seen."

His football coach, Jamie Wagner, said that he had heard that Watson had a smart sense of humor, but added that he never saw that side of him. He said Watson took football "very seriously," describing him as a model student-athlete and teammate.

"He kind of fit into every social group in the school," Wagner said. "He wasn't in one particular [clique]. He just fit in with everybody.

Another tragedy for a family that should have never occurred. My heart goes out to them
Tipped by: Inside Charm City