The Michael Bianco, Inc. raids netted hundreds of illegal aliens and 5 officials in the company for knowingly hiring - and actively helping - illegal aliens acquire false documents. Soon after Massachusetts Governor Deval Patrick came out swinging. He was disappointed in ICE for taking these poor illegal aliens away from their children and causing a "humanitarian crisis".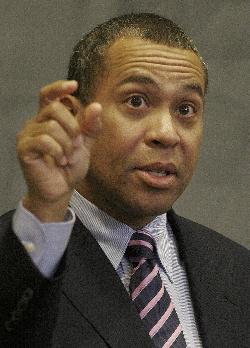 Deval Patrick has this much credibility
The problem is that the Governor's administration knew as far back as December of the coming raids and in face to face meetings in January and February. Deval Patrick was told of the raid in February and did nothing to prepare for them. The only one guilty of causing a "humanitarian crisis" is the Deval Patrick Administration and not the federal government for doing its job enforcing immigration laws.
So far this guy reminds me of Ray Nagin in Louisiana who refused to take any responsibility for his failures during Hurricane Katrina.
Boston Globe (Yes, the Boston Globe is even attacking him)


Patrick himself was told in February that the raid would target the defense contractor... Commissioner Harry Spence of the Massachusetts Department of Social Services was told a raid was coming several days before it occurred. The night before the sweep, Bruce Foucart, the ICE agent in charge of the operation, spoke with Spence to coordinate law enforcement and child protection aspects of the raid.

So, enough with the breast-beating pretense that the Patrick administration was blindsided by the stealth tactics of shadowy federal immigration officials. This is political grandstanding of the most transparent kind.

Now the only question is whether Senator Edward Kennedy will come out and condemn Deval Patrick for his lack of action rather than railing on our federal government, which in this case did a pretty good job of notifying officials in advance.
Enjoy your new Governor Massachusetts!
Tipped by: New England Republican (via Lonewacko)