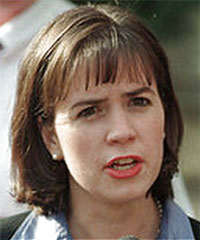 Since
Julie Myers
is doing such a good job at ignoring interior enforcement of our immigration laws, President Bush has decided to nominate her to remain in her position as head of the Immigration and Customs Enforcement Agency. This continues his current plan of allowing as many illegal aliens as possible to both enter and remain in this country. Hey, Congress didn't pass a guest worker amnesty so why not just go around them and put ineffective people in positions enforcing immigration laws?
There were rumors in December that Julie Myers would be leaving the agency quietly between Christmas and New Years day, unfortunately for America the rumors proved false.

President Bush on Tuesday renominated the chief of the Immigration and Customs Enforcement agency, who was put in her position through a controversial recess appointment last January, to continue in the job.

With Democrats in control of the new Congress, Julie Myers likely will face an even tougher confirmation process than she did when Bush first tapped her in 2005. Democrats [and I - Dig] have questioned her background and the adequacy of her experience.

Julie Myers has no qualifications at all to head up this agency and seems to be a simple nepotism and cronyism appointment that should lead everyone to question any of Bush's appointments.
Julie Myers is married to John F. Wood, DHS head Michael Chertoff's current chief of staff, and she is the niece of former joint chief's chairman General Richard Myers.
Other Commentary: