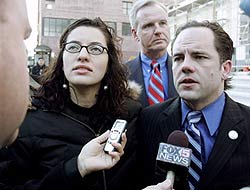 Sascha Herrera, an illegal alien who has been in hiding - and is the wife of Georgia State Senator Curt Thompson, has miraculously received a stay of deportation. Sascha Herrera, a native of Columbia, was nowhere to be found when ICE showed up to
serve her deportation orders
.
Now it seems all has been forgiven

An immigration judge on Tuesday scrapped a deportation order filed against the wife of state Sen. Curt Thompson, allowing her to remain in the country.

Federal officials went into court Tuesday morning and supported Sascha Herrera Thompson's bid to block her deportation.

"Based on the unique facts of this case, we agreed not to appeal reopening the case," said Terry Bird, chief counsel for the Atlanta office of Immigration and Custom Enforcement.

They blame the whole situation on a "Latin American notario" or notary public who they say put incorrect address information on her documents thus causing her to miss immigration hearings
My question is why did this public servant decide to hide his wife from federal officials if he knew she was in the right rather than allow the federal government to do their job while he cleared things up? Oh that's right because he is a major supporter of illegal aliens, that's why. He probably finds it OK for illegal aliens to run and hide from federal officials even in cases where they are in the wrong.