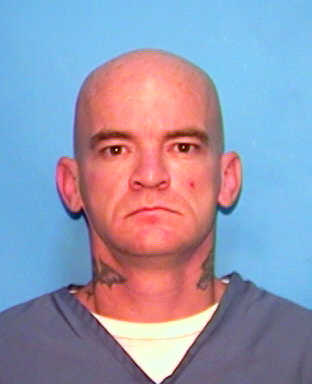 An arrest warrant has been issued in the killing of Clemson University student Tiffany Souers who was strangled with her bikini. Jerry Buck Inman (pictured) has an arrest warrant out on him for murder, rape and kidnapping.
If you see him call 1-800-442-2746 and press 2 or call your local police
Backcountry Conservative reports on his description as follows.


His description: Inman was born on 12/19/1970 and is 5'10" tall and weighs around 159 pounds. He has brown hair and brown eyes. He has tattoos all over his body including a tattoo all over his back, a skull on his left chest, a skull pentagram on his left hand, a skull dagger on his left leg, a bat on his neck, a skull dragon and cross in memory of brother on his right arm, a skull on his right hand, and a female with a gun on his stomach.

The vehicle he owned that was seen on ATM photos was a silver and red 1990 GMC S-10 Blazer with TN tags: 158-DCX. He also owns a green a 1997 Chevy Camaro (TN plates: SRD-739) and a 1985(or was it '95?) Ford Econoline Van (TN plates: THH-062.)

This dirtbag is actually out on the streets if you can believe it. He is on the sex registries of Tennessee, North Carolina and Florida, escaped from prison twice in North Carolina and has 24 prior convictions.
This is a travesty that some poor girl who's just going to college and trying to do the right thing has to die before someone does something about this slug.
If ever there was a reason to instantly put these criminals to death this is it.
This guy is dangerous. Don't approach him.
Tipped by: Backcountry Conservative who has more.
The judge that sentenced her should be impeached. We all know that if this was a MALE teacher his butt would be someone's "property" in prison.
She deserves to be someone's "property" at the very least.
This Turner woman could have plenty of guys. She's sick and needs to be taken out of circulation in society.
Posted by: Thomas on June 12, 2006 05:54 AM