| | |
| --- | --- |
| By / March 3, 2006 07:30 AM | |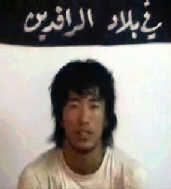 al-Qaeda Terrorist, Hussein Fehimi, has confessed to 116 beheading including that of Japanese hostage Shosei Koda
For those who don't remember, Shosei Koda, was a Japanese man taken hostage while backpacking in Iraq in October 2004. He was later shown on video being beheaded.

In his statement to AP, an official from the Interior Ministry officials in Iraq, Major Raid al-Mafraji told that al-Qaeda member Hussein Fehimi confessed to beheading 116 people.

Reportedly, the Japanese citizen, Shosei Koda was among the abducted who were later decapitated by Fehimi.

Would anyone object to this guy being beheaded? I mean even those who don't believe in "an eye for an eye" has to admit that an eye for 116 eyes may be just.
Other Commentary:
The Jawa Report
In The Bullpen


This entry is in the following archive(s):
Next and Previous Entries:
Posted by Digger on March 3, 2006 07:30 AM (Permalink)

Um, hell yes!
Also, not to be a picky jerk but wouldn't that be 232 eyes?
Posted by: Jake Jacobsen on March 3, 2006 08:22 PM
I wonder ifthis guy committed all these crimes or is he caught and ust trying to gain some street cred withthe other racist terrorists.
Raymond B
www.voteswagon.com
Posted by: Raymond B on March 5, 2006 08:27 PM
ALL TERRIST SHOULD BE KILLED NOT INPRISONED THEY HAVE NO RIGHT TO LIFE I personally would love to fight all of these sissy la-la's my self stomp 7 kind's of dog shit out of them but they need to relize my hand's will not be tied yoou people over there and the swords of rightousness are nothing but dress wearing pussy's
THE EAGLE HAS SPOKEN
Posted by: Brent on March 11, 2006 04:49 PM
I think it is time to change the rules of engagement. Every terrosit we capture and for whom the evidence is unquestioned should be promptly shot at the time of capture or executed with a few days at most. This political correct bullshit has got to stop. We have to start killing these people. Their crimes of random murder of innocent people are the most evil ever undertaken by humans. They have given up their right to live in the community of human beings and must be wiped out. Islam is the religion of Satan. It is good vs. evil and the whole world knows which side is which.
Posted by: Rob on October 1, 2010 05:54 PM