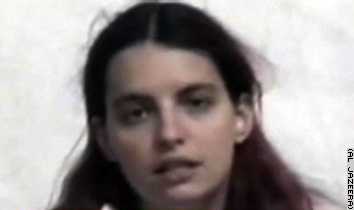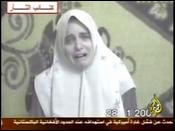 A video of reporter Jill Carroll was show on al-Jazeera yesterday. In the video Jill Carroll is seen crying and apparently begging for the release of Iraqi prisoners or the terrorists threaten to kill her. There was no audio broadcast by al-Jazeera. The date on the video was January 28, 2006.
This is the first video released since a January 17, 2006 video of the Christian Science Monitor reporter was broadcast with the terrorists demanding the release of all female Iraqi prisoners being held by US forces in Iraq. They also set a 72-hour deadline in the first video for their demands to be met or they would kill Jill Carroll.
Jill Carroll was taken hostage earlier this month in Baghdad's western Adel district near the mosque of Malik Bin Ana. Her interpreter, Alin Ghazi Jack, was killed when terrorist gunmen ambushed her car and took her hostage

Jill Carroll, the kidnapped US journalist held in Iraq, has appeared in a new video, weeping and appealing for the release of women Iraqi prisoners.

The video, aired by Aljazeera on Monday, showed Carroll wearing a veil but carried no sound.

Aljazeera said the 28-year-old journalist appealed for the release of women Iraqi prisoners.

...

Editor Richard Bergenheim said: "Anyone with a heart will feel distressed that an innocent woman like Jill Carroll would be treated in the manner shown in the latest video."

The Jawa Report tells us about how the terrorists got former hostage Roy Hallums to shed a tear on his video.


Roy Hallums, a hostage liberated by U.S. troops, related that when his terrorist captors wanted him to cry on his video, they first beat him. They said they wanted his tears to look 'believable'.

We all hope that, like Roy Hallums, Jill Carroll also survives this hateful act.
Other Commentary
In The Bullpen