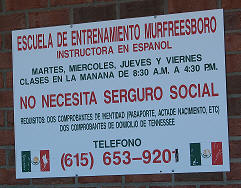 An 18-month joint investigation between federal and state law enforcement called Operation Crooked Highway has been cracking down on those who are selling drivers licenses to illegal aliens. In one incident a Pakistani illegal alien, Syed Abbas Parvez, was detained for transporting an illegal alien from Georgia with the explicit purpose of buying them a driver licenses.

Entrenamiento de Manejo Winchester Driving School off Mack Smith Road in East Ridge shut down early Wednesday after the Tennessee Highway Patrol made a surprise visit.

...

Tuesday, Officers in Murfreesboro led Bruce Conklin away in handcuffs. He and Teresa Jones are former workers at the drivers license station. They're charged with accepting thousands of dollars in bribes in exchange for providing driver licenses and drivers certificates to those who would otherwise be ineligible.

The owner of Winchester Driving School, Bryan Guess, is accused of bribing one of the examiners in exchange for drivers license or improper driving certificates for the school.

Two others are charged with selling improper driving certificates, and sixth person is charged with transporting illegal aliens to obtain the improper driving documents.
More on the Entrenamiento de Manejo Winchester Driving School:

The sign at the private driver's school was ironically written in Spanish. State law allows approved third-party businesses to administer the written as well as road tests for Tennessee drivers licenses.

Another part of Operation Crooked Highway charges Syed Abbas Parvez, alleged to be an illegal alien from Pakistan, with transporting another alleged illegal alien from Georgia to obtain a Tennessee license. $1,100 was reportedly paid to the school to receive fake proof of residency documents and a Tennessee drivers license.

Another party named in the indictment is Shun Gao who works at a Murfreesboro Chinese Restaurant under the name of Gordon. Gao allegedly paid the school approximately $32,000 in cash for third party certificates for around 50 clients.

They need to change that rule on the third party system.
Tipped by: Debbie at In The Bullpen