Incompetence breeds incompetence and now Immigrations and Customs Enforcement is being filled with inexperienced and unqualified candidates left and right. New appointee Julie Myers has brought in her first hiree, one Daniel T. Fahner, a 30-year-old corporate litigator with -- you guessed it -- absolutely no experience at all in border enforcement or immigration.
Debbie Schlussel brings us all the details on Daniel T. Fahner, his father and his ties and how another unqualified crony makes it into the department. Here's a snippet, then read the rest.


Myers claimed that, to overcome her absolute lack of law enforcement experience, she'd surround herself with seasoned ICE people. Not quite.

Daniel Fahner is only 30, and, until recently, was exclusively a litigation attorney at disgraced felon/lobbyist Jack Abramoff's firm, Greenberg Traurig. Here's his bio (the firm removed it, but thank Heaven for google's cached files). The guy looks like he just had his Bar Mitzvah, yesterday. Her first hire . . . not a very good sign.

You just know that the Google cache of Daniel T. Fahner will eventually go away, so I went one better and grabbed a screenshot of this highly experienced individual.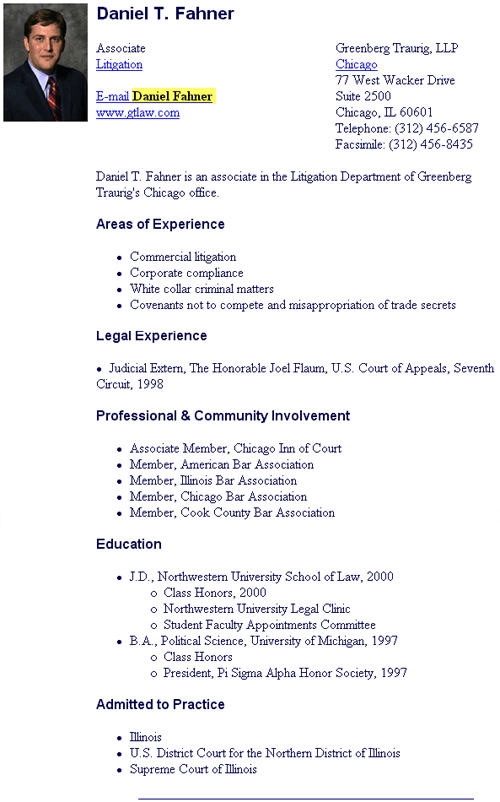 God help us all!

Hey, I read about this from Debbie Schlussel's site. That lady is so on top of this stuff. I am fighting the illegal war, the p.c. war, the New World Order War, and lets see, what else????
Anyhow this is total cronyism at its finest. The ineptitude and the lack of competence, and the 'who you know' is constantly eye opening. Bad enough that is pads people's pockets, but TOTALLY UNACCEPTABLE when it sells out our freedom.
Posted by: Leslie Wetzel on January 8, 2006 11:57 AM
Obviously, someone believes the borders can be protected by a ball-point pen. Either that or the administration just doesn't care about the problems of illegal aliens and contraband.
I'm disgusted.
Posted by: Mike on January 8, 2006 04:56 PM
You all have to relax a little bit - do you think he's the first person to be appointed to a "political" job that has a good family background? The problems of our adminstration run a lot deeper than this. Did you want them to hire a partner from a law firm with 40 years of experience? Focus more on the administration's policy and the b.s. red tape of the Homeland Security Dept. (and not on some highly educated man who you know nothing about).
Posted by: GC on April 4, 2006 12:21 PM