After I finished all the posts on our cross country trip I got to thinking. "These posts are going to fall by the wayside and people aren't going to read them anymore". So I decided to make a whole new website out of them and move all the information and pictures there.
The whole family adventure can now be found at the appropriately named Our Family Adventure ( http://www.ourfamilyadventure.com/ ).
Below is the logo for the site. Let me know what you think of it! I'd really like some input.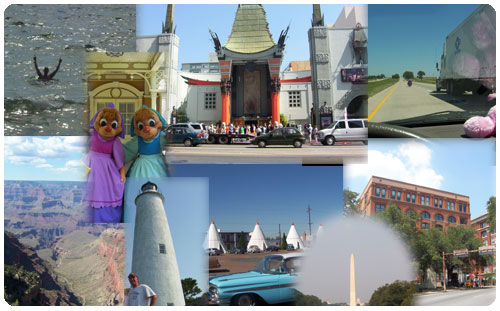 Go check it out. I hope you like the layout and I intend to add to it with maps of the route we took, some information on trip planning for long trips and other general information and hints that we learned along the way.
If you linked to any of the posts don't worry! I have done a 301 redirect via the web server (a technical way of redirecting to the proper page), so your links will automatically go to the proper entry on the new website!
Right now I'm trying to decide whether to turn on comments or not for the posts or leave it more as a travel guide sort of thing. What do you think?
Linked to:
Outside the Beltway | Stuck on Stupid | Wizbang | Adam's Blog | bRight & Early
Very nice. We always stop at Vicksburg. Every Sunday, they have performances of local old time string ensembles at the welcome center.
Posted by: EdWonk on January 3, 2006 07:27 PM