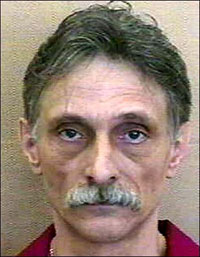 He earns the title of 1000th person executed since reinstatement of the death penalty in 1976. Kenneth Lee Boyd was executed by lethal injection at 2:15 AM. This bastard took the lives of two people and could have killed a third -- his son -- who was covered by his mother to protect him.


While the details of the crime are below, there is one portion of the article i would like to particularly highlight. It is the last paragraph where one of his sons -- now 35 and who wasn't at the shooting -- says this.


''He made one mistake, and now it's costing him his life,''

What the fuck kind of moron could actually say such a thing? One mistake? This monster unloaded a .357 into a woman and her father while she covered a little boy so he wouldn't be harmed.
Vicious murder, the new "oopsie!".

Boyd, 57, did not deny that he shot and killed Julie Curry Boyd, 36, and her father, 57-year-old Thomas Dillard Curry. Family members said Boyd stalked his estranged wife after they separated following 13 stormy years of marriage and that he once sent a son to her house with a bullet and a threatening note.

During the 1988 slayings, Boyd's son Christopher was pinned under his mother's body as Boyd unloaded a .357 magnum into her. The boy pushed his way under a bed to escape the barrage. Another son grabbed the pistol while Boyd tried to reload.

And of course there were anti-death penalty protesters outside holding banners and signs who -- if the same thing happened to their mother and grandfather -- would gladly let the murderer go and probably provide him with another .357.