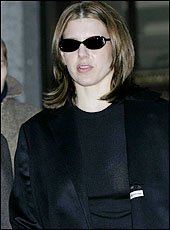 Alexis Stewart, daughter of Martha, throws house parties. This one was for an article that's going into Harpers Bazaar on her and her apartment -- which of course she is quickly going to move out of. While Alexis' house parties are probably nothing compared to Paris Hiltons house parties, there's always that curiosity factor of what goes on at these things.
Well now we have our answer from BusinessWeek editor David Kiley. Kiley writes over at his advertising and marketing blog Brand New Day and gives us an inside look.


Right off the elevator of her apartment, I am greeted with Dom Perignon Rose Champagne, 1995. A very good choice, though not quite as nice as 1996. I'm hungry and snag a shrimp on a toothpick. Good. Except now I'm having an honest to God Larry David moment. There's no obvious place to ditch the toothpick. Into my jacket it goes.

Interesting, though a little light on the details. Maybe there really were no details to delve into, though the Sirius meeting of Martha Stewart, Fiddy Cent and Howard Stern all in same room was an interesting part.