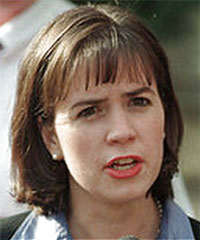 Cronyism, the first word that comes to mind when mentioning Julie Myers. Here's the latest news on her nomination.
The nomination of Julie Myers to head the Immigration and Customs Enforcement (ICE) agency has been put on hold by Senator Susan Collins (R-ME).
"Julie Myers would not have been my choice" to lead the Immigration and Customs Enforcement agency in the Department of Homeland Security, Sen. Susan Collins (R-Maine) said last week.

Collins, head of the Senate Homeland Security Committee, slapped a "hold" on President Bush's nomination of Myers to the post until more could be learned about Myers' "managerial experience" or lack of it.
Agents and Employees of the ICE have come out against the nomination of Julie Myers to head up the agency. They have said she is unqualified because she hasn't ever held a law-enforcement management position. Debbie Schlussel also points out the back door politics going on to get Myers appointed.
... Julie L. Myers and VERY liberal Republican U.S. Senator Susan Collins of Maine were discussing the men of the U.S. Senate and how to garner their votes for Myers...

Collins heads the committee that oversees Myers' nomination. They got together to plot ways to get the nomination of the unqualified Myers through committee and then to the Senate Floor for approval of her now-under-fire nomination for Assistant Secretary of Homeland Security over ICE.

ICE agents are very worried. They speculate that Collins may try and "back door" Myers' nomination out of committee without a vote and put her before the full Senate. That would almost assure her confirmation without the committee having to sign off on her.
Meanwhile the agents are coming out against Myers.
The nomination of Julie L. Myers "just doesn't pass the smell test and is another indication that this administration created the Department of Homeland Security as window dressing and does not care whether ICE is successful," said Matthew Issman, national legislative vice president of the Federal Law Enforcement Officers Association (FLEOA).

"What we need is a strong, law-enforcement leader, not another inexperienced, well-connected lawyer with friends in the White House."

...

But several ICE supervisors and agents complained last week that the agency has struggled in its attempt to establish a specific mission strategy, despite the expenditure of billions of dollars in tax money and said a strong leader is vital for improvement.

They also criticized what they called poor administrative systems, ongoing budgetary concerns, a hiring freeze, morale problems and a lack of cohesion and identity.

...

"With a lightweight like Myers, we will just continue to lose more ground and will be relegated to becoming an also-ran," Mr. Issman said.
Yep, that's what we want for our front-line of defense against terrorism, a lightweight in charge.
* * *
Update:
Debbie Schlussel is on the ball and has received word from a Collins staffer that the story of Julie Myers being put on hold is false.
Now a Collins staffer has confirmed that the NY Daily News story is a lie. In fact, as we wrote earlier today, Collins was NOT on her honeymoon but DID, in fact, meet with Myers on Friday.
So much for wishful thinking that this nomination would be seen as for the ridiculousness that it truly is and be pulled.
Tipped by: Michelle Malkin and Debbie Schlussel